Minecraft 1.20 Trails & Tales update. The new update was announced at Minecraft Live 2022 and released in 2023. Camel and Sniffer, Archaeology, armor trim, and more much new! A detailed list of changes is in the post.
---
Navigation
---
Changes
Dozens of different changes have been made. From the main one:
Redesigned Smithing Table
Changed the process of upgrading diamond equipment to netherite
Add 3 slot in Smithing Table for Smithing Templates
Elder Guardian now drops Tide Armor Trim
A pattern can be applied to the Shield with the Banner
Sign now can be edited
Both sides of the Sign may contain text
Honeycomb allows to disallow editing of Sign
The mob head on the top Note Block now play one of the ambient sounds
Blocks of Amethyst have a new behavior when placed adjacent to Sculk Sensors


If that Sculk Sensor receives a vibration, the Block of Amethyst will re-emit its frequency as a separate vibration at its location

Sugar Cane and Bamboo can now be placed on Moss Block
Sculk Sensors now power the block below them when active
Distinct green particles are now emitted by the player under effect of Hero of the Village status effect

Cherry Grove
New forest biome
Generated nearby in the mountains
Characterized by bright pink leaves
Cherry trees grow here
Despite the name, the trees don't drops Cherries
Pigs, Sheep, Rabbits and Bees spawns here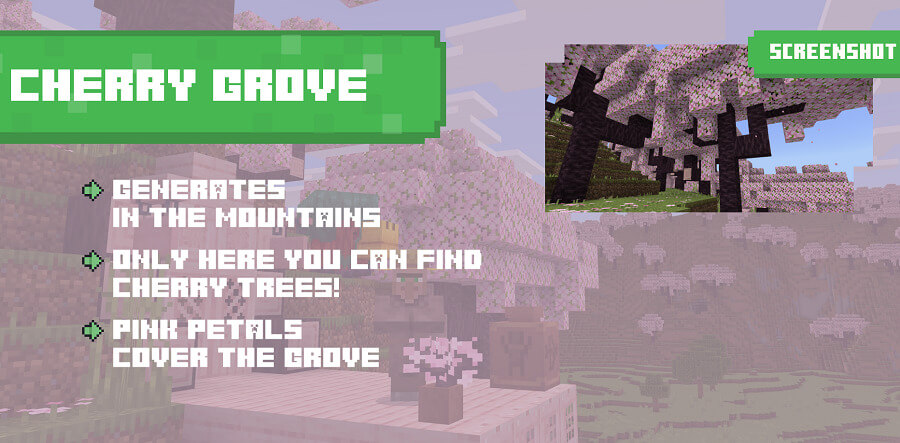 Cherry Tree
It grows in Cherry Grove
Growing out of a Cherry Sapling
Unique particles fall from the leaves
Wood can be used in recipes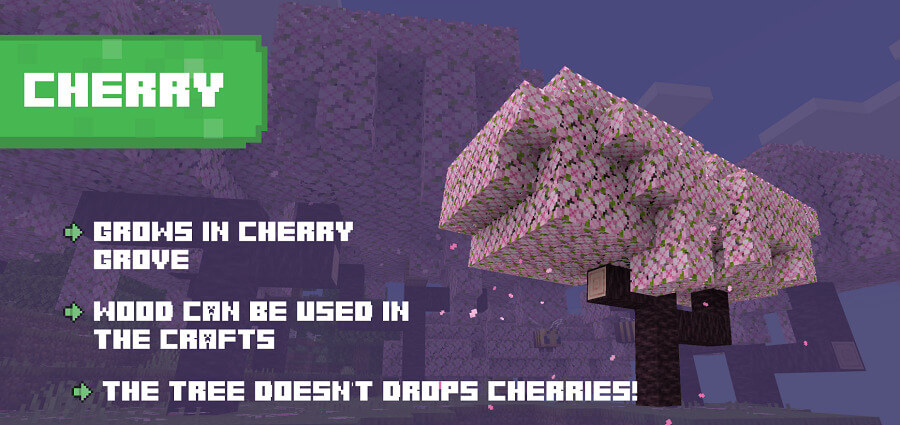 Trail Ruins
Generates underground
Represents the remnants of a civilization
Serves as an archaeological site
Pottery Sherd and Smithing Templates drops from Suspicious Gravel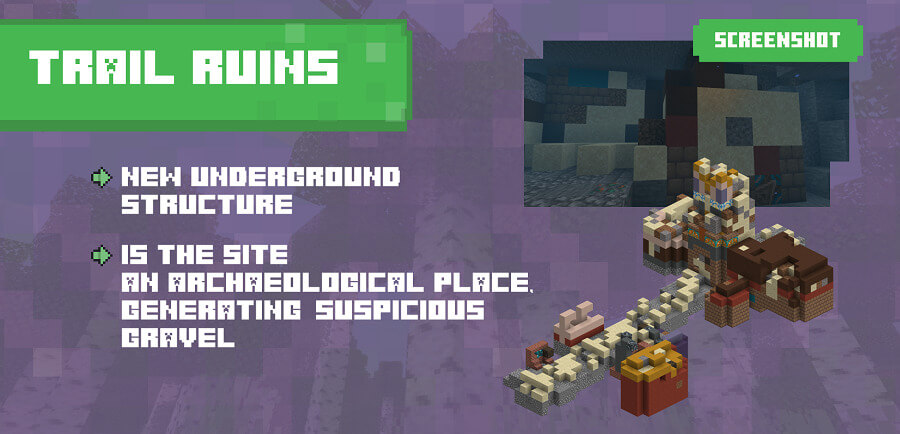 Camel
Riding animal
Spawns in the Desert Villages
Can be bred
Eating cacti
Can be ridden by two players
Can move slowly and quickly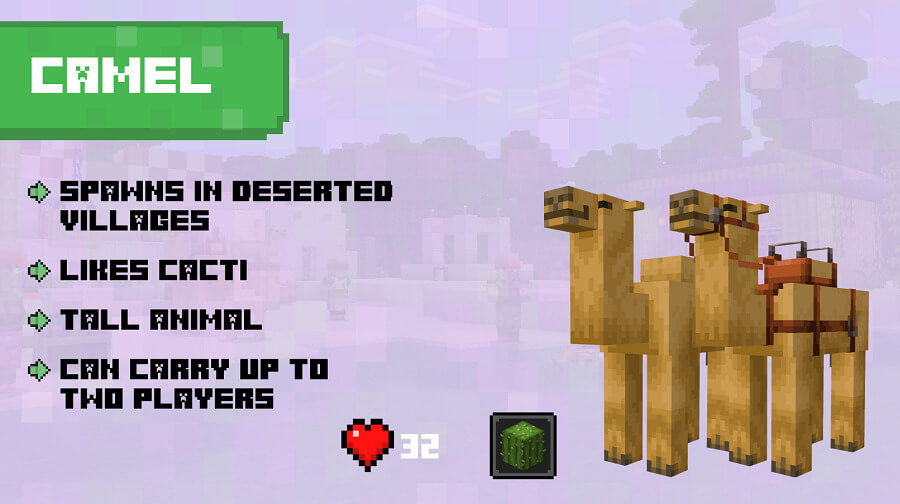 Sniffer
Winning at Minecraft Live 2022
An ancient creature
Hatching from egg
Egg drops from Suspicious Sand
Sniffing out Pitcher Pod and Torchflower seeds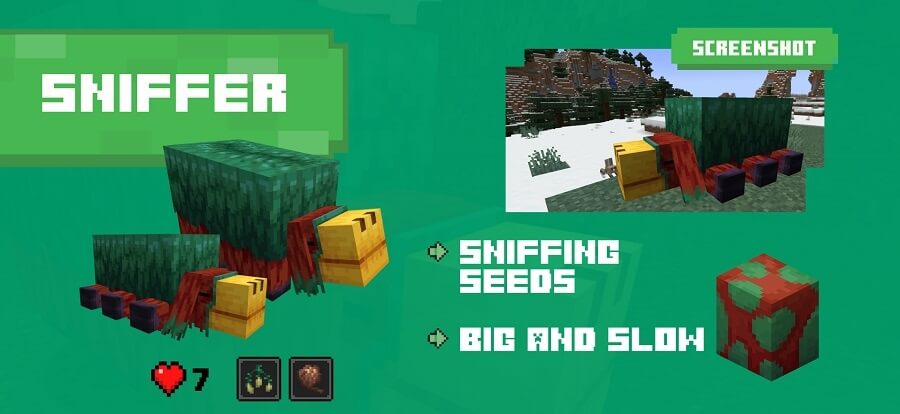 Cherry boat
Can be crafted from Cherry planks
Cherry Boat and Chest can be combined on the crafting table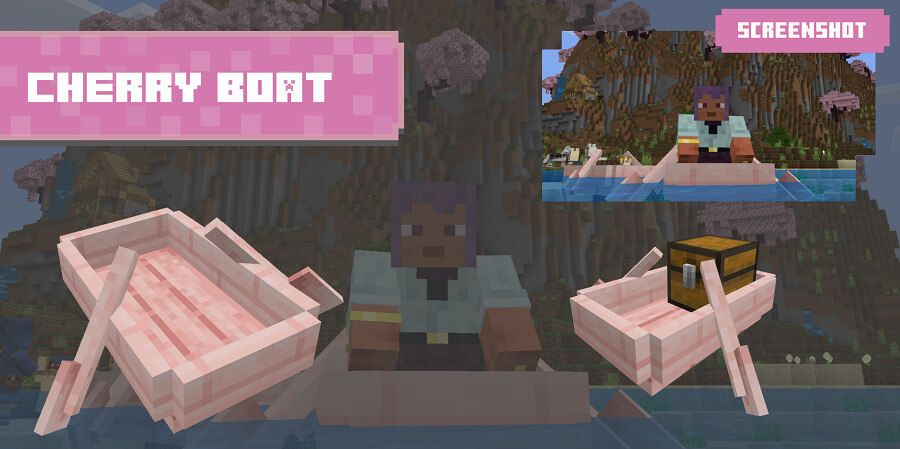 Raft
A new type of boat
Can be crafted from Bamboo
Can carry a chest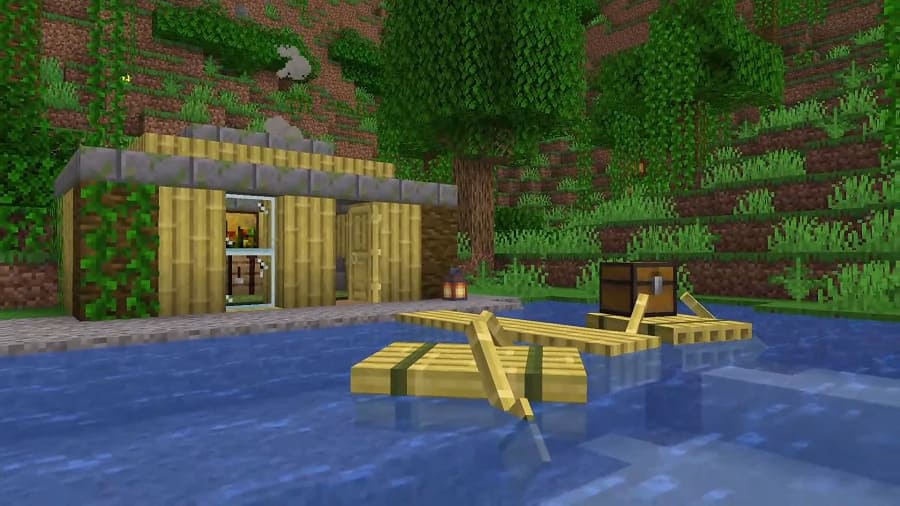 Archaeology
After a few years, Archaeology is officially coming to Minecraft!
Archaeology sites are found in Deserts, Underwater Ruins, and Trail Ruins
Use the Brush to clean the Suspicious block
The only way to get the Pottery Sherds and the Sniffer Egg
Each pattern has its own story to tell!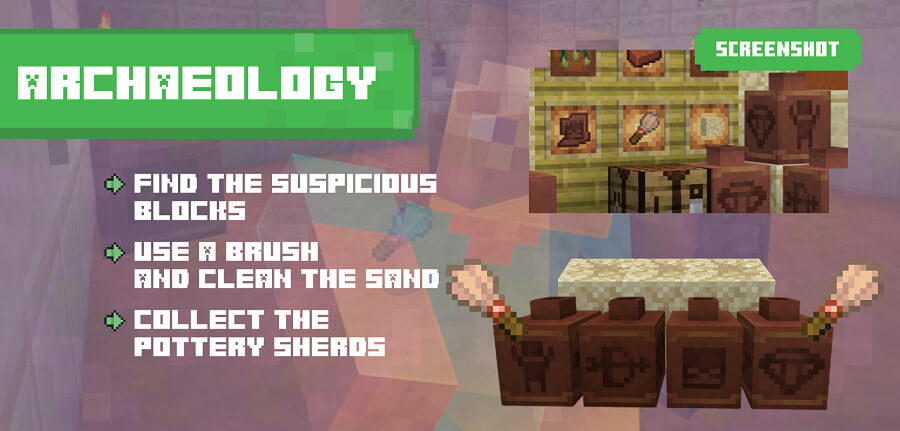 Armor trims
New mechanics for creating a unique armor look! Finishing armor requires a special forging template.
Netherite Upgrade applies to Diamond Armor and Tools
Armor Trim affects the armor pattern and has 16 variants


Coast Armor Trim
Dune Armor Trim Smithing
Eye Armor Trim Smithing
Host Armor Trim Smithing
Raiser Armor Trim Smithing
Rib Armor Trim Smithing
Sentry Armor Trim Smithing
Shaper Armor Trim Smithing
Silence Armor Trim Smithing
Snout Armor Trim Smithing
Spire Armor Trim Smithing
Tide Armor Trim Smithing
Vex Armor Trim Smithing
Ward Armor Trim Smithing
Wayfinder Armor Trim Smithing
Wild Armor Trim Smithing

The Smithing Table is used for updagrading and trimming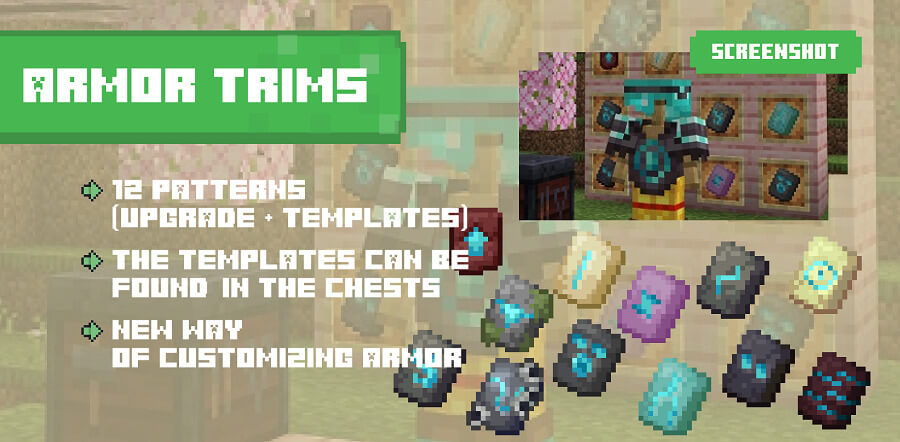 Shield customization
Shield now can be customizated!
Shield and Banner required to make it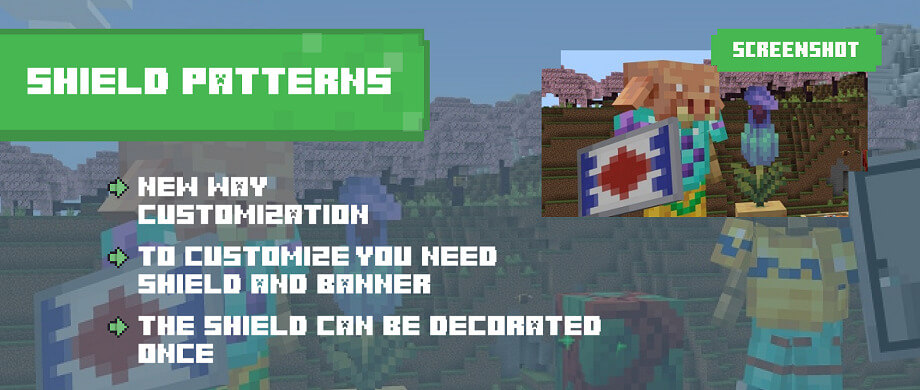 Hanging Sign
11 variants
Color depends on the type of stripped log
Can be hung up
The text can be on two sides
The dye changes the color of the text
A Glow Ink Sac can make the text glow

Chiseled Bookshelf
Can store up to six books

Books, Enchanted Books and Book and Quill

Works with Redstone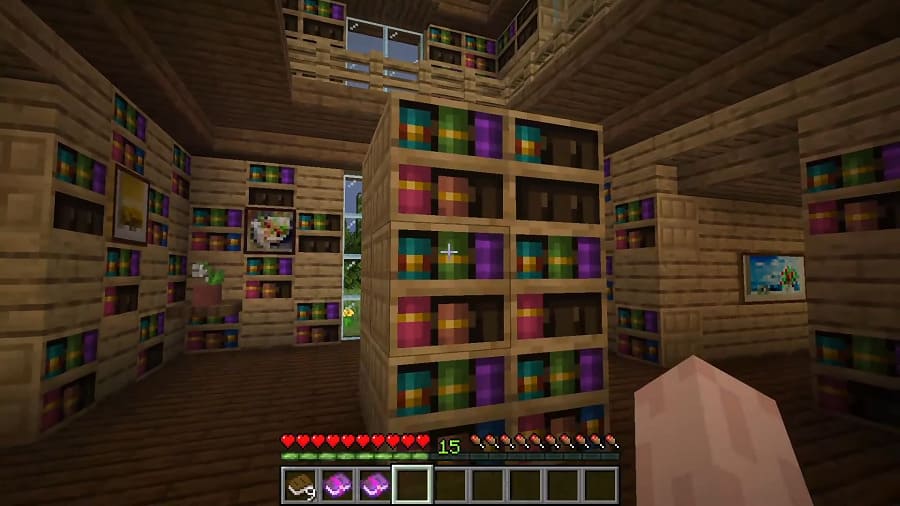 Bamboo Blocks
The use of Bamboo has been expanded
Bamboo can be used to create any kind of wood blocks
Bamboo can be used in crafts:

buttons, doors, fences, fences gates, pressure plates, signs, slabs, stairs and trapdoors

Added Bamboo Mosaic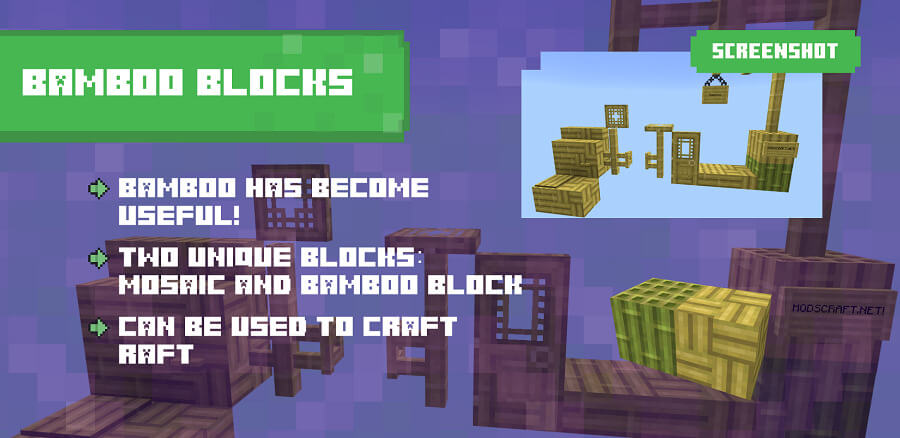 Pitcher Plant
Growing out of a Pitcher Pod
Cannot be placed in a Pot
Has 5 stages of growth
A Sniffer sniffs out Pitcher Pod
Can be crafted into Cyan Dye
Torchflower
Grows from torchflower seeds
It has 3 stages of growth
The flower doesn't emit light
Can be planted in a pot
Can be crafted into an orange dye
Can be used in Suspicious Stew craft recipe
Can be used to tempt and breed Bees
Decorated Pot
New decorative block
Can be crafed from 4 bricks
Instead of a brick, you can use a Pottery Sherd with a pattern on it
Each side can have a different pattern
Calibrated Sculk Sensor
Can filter vibrations by frequency
Can crafted with 1 Sculk Sensor and 3 Amethyst Ahards
One side will receive a redstone signal
Piglin Head
Drops when killed by a Charged Creeper
Flapping ears when feeding on Redstone
Sniffer Egg
Drops from Suspicious Sand in warm oceans
Drops when two Sniffers breed
It takes 20 minutes to hatch
It takes 10 minutes to hatch on a Moss block
Suspicious Sand and Gravel
Two new blocks that are outwardly similar to the default blocks, but are part of the Archaeology.
Suspicious Sand is generated in Warm Ocean Ruins, Desert Temples and Desert Wells
Suspicious Gravel is generated in Cold Ocean Ruins
Smithing templates
The Smithing templates is part of the new mechanics for creating Netherite equipment and decorating armor.
17 items in total: 1 Netherite Upgrade and 16 patterns
The Netherite Upgrade applying only to Diamond Armor and Tools
Armor trim templates are applicable to any armor
Can be found in the chests of various structures
Can't be crafted, but can be coppied

Brush
Can be used in excavation sites.
Can be crafted from Stick, Copper Ingots and Feather
Used to clean Suspicious Sand and Gravel
Successfully retrieving an item from a Suspicious Block uses 1 durability
Pottery Sherds
Can be used to craf a Decorated pot with a pattern
Drops from Suspicious Sand and Gravel
20 variants

Music Disc - Relic
New music disc. Plays the "Relic" written by Aaron Cherof.
Drops only from Suspicious Sand and Gravel
❔ FAQ
---
What are Pottery Sherds in Minecraft for?
Pottery Sherds are needed to craft a Decorated Pot with a pattern. You can use Bricks instead of a Shard or Shards, but then the Pot will have no pattern.
---
What is the new update 1.20 in Minecraft?
In Trails & Tales, the developers want each player to create their own story. It is for this purpose that Archaeology, Armor trmis, Decorated Pots and more have been added to the game. Each player's journey creates a unique story and that is the purpose of the update.
---
How To Hatch a Sniffer Egg?
The Sniffer Egg must be placed on the ground. The Sniffer will spawn on a moss block after 10 minutes, but on any other block it will take 20 minutes.
---