Minecraft 1.18 Caves and Rocks. Part II
is a direct continuation and final update of this theme. In this update, the developers focused on processing the generation of worlds, increased the height, the caves became larger, and the mountains higher… And this is only a small part!
---
Content
---
Vanilla experiments
These features are in the testing stage and will appear in 2022 along with the
Wild Update
.
Goat Horn

Sculk

Sculk vein

Sculk Catalyst

Sculk Shrieker

Sculk sensor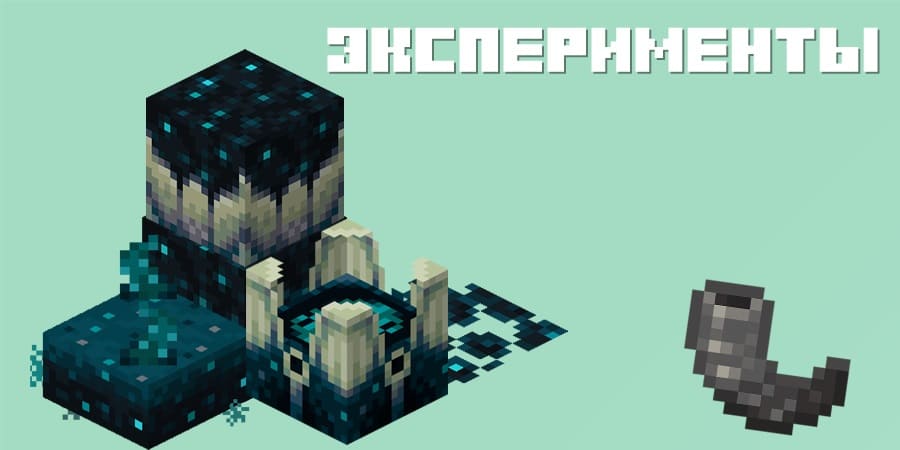 ---
New achievements
Caves and cliffs — jump from the top of the world (the maximum height of construction).

Just like at home — take a long strider train through the lava lake in the Upper World.

Star Trader — bargain with a villager at the maximum construction height.

Charming music — enliven the clearing with the sounds of music from the player.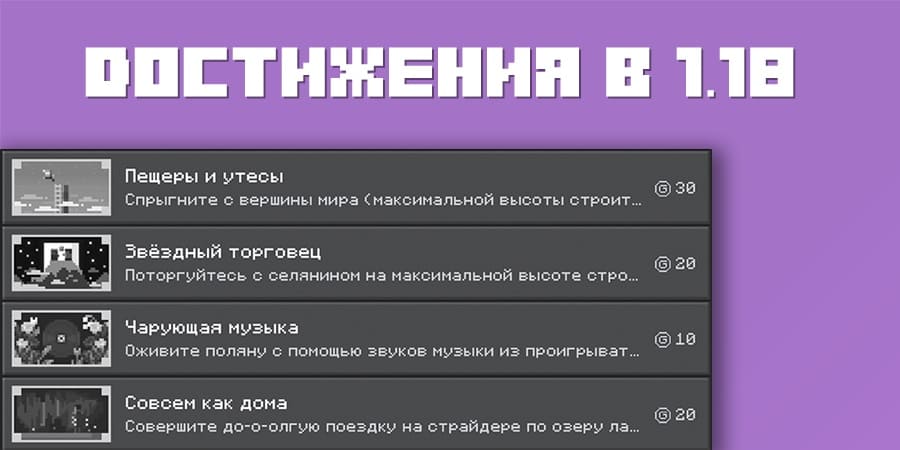 ---
New music
Music for the update
Caves and Mountains
were written by Lena Rain and Kumi Tanioka. All of them are included both in the game menu and when visiting various biomes. Don't forget to download music sets if you have Android.
Stand Tall

Left to Bloom

Ancestry

Wending

Infinite Amethyst

One More Day

otherside

Floating Dream

Comforting Memories

An Ordinary Day
---
New items
There are no new blocks and mobs in the update, but a new item has appeared —
the music record "otherside"
. You can find it with a small chance in the chests of dungeons and fortresses.
---
Generating
Significant changes have occurred in the generation of the Upper World. The generation of the landscape was completely redesigned, cave and mountain biomes appeared.
Caves have been redesigned, noise caves have been added

Rifts similar to canyons have been added, but they are much narrower

Depending on the depth, the caves consist of different types of stones

Lush and karst caves have been added

Ore deposits added

Added aquifers and reservoirs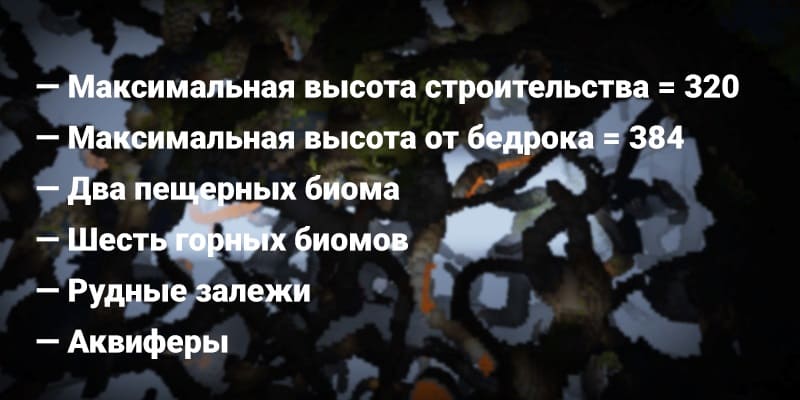 ---
Changes
Updated the background in the main menu

Worlds with the old generator type can no longer be created

Worlds with the old generator type do not have a new generation and an updated height

The number of magma blocks in underwater caves has been increased

Lava cube now attacks iron golems

Increased the number of dungeons in the world

Axolotls spawn only in lush caves and above clay blocks

2-5 unprocessed copper falls out of the copper ore, instead of 2-3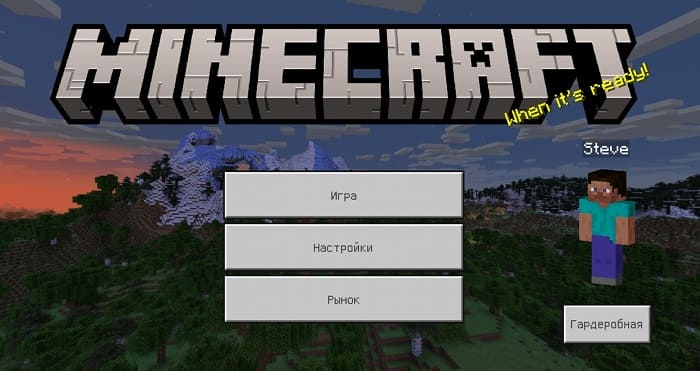 ---
Version equality
The raid scale is now reduced if a marauder (or another raid mob) takes damage

The screen now shows the number of players lying in bed

Added smoothness to the shield when using it

Improved generation of worlds, generators now create almost similar worlds

---
Fixed bugs
More than a hundred different bugs have been fixed, here are the main ones fixed:
Lightning no longer has shadows

Mobs are now trying not to go to the bonfire

The light block no longer explodes

Fixed a bug where entities started to burn when passing through the Nezer portal

Fixed a bug with foliage transparency when it was near incomplete blocks

Fixed the animation of axolotls on land

Sweet berry bushes now deal damage to mobs

The Hero of the Village effect is now applied to all players after winning

Fixed the operation of the horus fruit at a negative height

Water, lava and loose snow can again be continuously placed

---