A new Minecraft Beta and Preview 1.19.80.22 has been released. The developers have added a new structure, more pottery fragments have appeared, the plates can now be edited. This is only part of the changes, the details are in the article!
Read more details about the update on the official
Minecraft website
.
Calibrated Sculk Sensors
A new variant of Sculk Sensors which allows you to filter vibrations based on their frequency level. They are not found naturally and can only be crafted

They can be crafted with 1 Sculk Sensor and 3 Amethyst Shards in the Crafting Table

One side of the Calibrated Sculk Sensor can receive a Redstone signal as input


The strength of that Redstone signal is the only vibration frequency the Sculk Sensor will listen to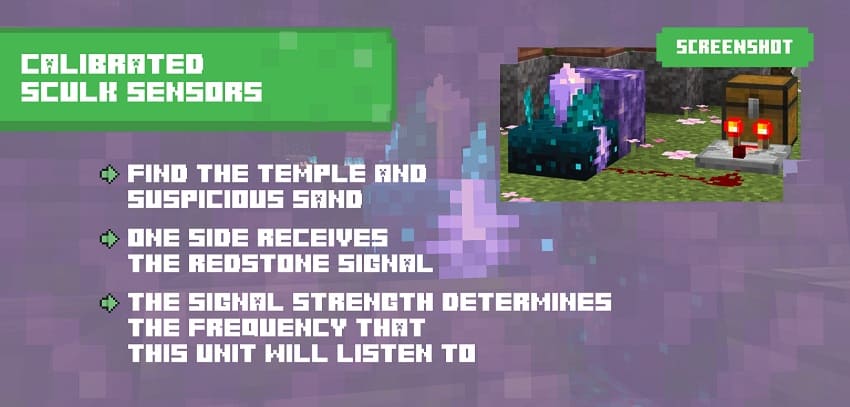 Vibration Resonance
Blocks of Amethyst have a new behavior when placed adjacent to Sculk Sensors


If that Sculk Sensor receives a vibration, the Block of Amethyst will re-emit its frequency as a separate vibration at its location

This behaviour is called Vibration Resonance, and allows players to move vibration frequencies across long distances without having to recreate the vibration naturally
Sign Improvements
Signs have improved customization options

Sign text can now be edited after being placed in the world

This can be done by interacting with the Sign

Both sides of the Sign can now have separate text and colors, allowing for further customization options

By default, a Sign will prompt you to input the front side's text when placed

To apply text to the back-side, you must walk to the other side and interact with that face to edit it

Signs can now also be waxed with Honeycomb, preventing any further edits to its text
Armor Trims
Added 5 new armor trims

New armor trim smithing templates have been added to the following structures:
Trail Ruins:


Wayfinder Armor Trim

Raiser Armor Trim

Shaper Armor Trim

Host Armor Trim


Ancient City:

Dune Armor Trim now has a brand-new pattern and Smithing Template icon

Dune Armor Trim's old pattern is now used by the Sentry Armor Trim


A new icon has been made for the Sentry Armor Trim smithing template to fit this pattern


Sentry Armor Trim's old pattern is now used by the new Shaper Armor Trim
Archaeology
Added the Trail Ruins, a buried structure from a lost culture

Added Suspicious Sand to Warm Ocean Ruins

Added Suspicious Gravel to Cold Ocean Ruins

Added 16 Pottery Shards (Now 20 Pottery Shards in total)

These have been distributed between the five Archaeology sites: Desert Wells, Desert Temples, Cold Ocean Ruins, Warm Ocean Ruins, and Trail Ruins

Looted items should now reveal themselves properly from suspicious blocks when brushed, regardless of which item is contained
Cherry Blossom Biome
New petal particles for Cherry Leaves

Pink Petals now make a sound when adding more petals to them

The sound "step.pink_petals" is now in the "Players" category instead of "Blocks"