Together with
a new snapshot
for Minecraft: Java Edition, developers have published a Minecraft Beta and Preview 1.19.70.23. The update brings a lot of new content to the game — Archeology, Sniffer, Pots, fixes bugs!
Beta update for Android devices is delayed!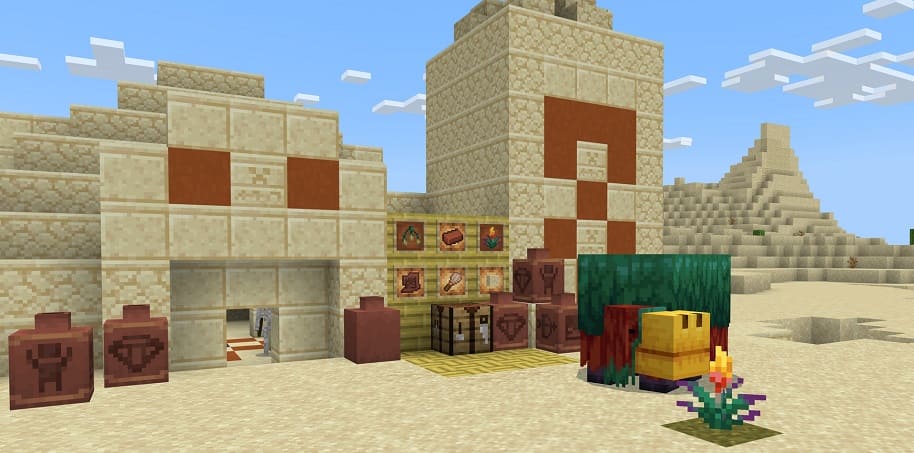 Archaeology
Added the Brush item

Added the Decorated Pot block

Added four Pottery Shards

Added the Suspicious Sand block

Added Suspicious Sand to the Desert Temple

Added Suspicious Sand to the Desert Well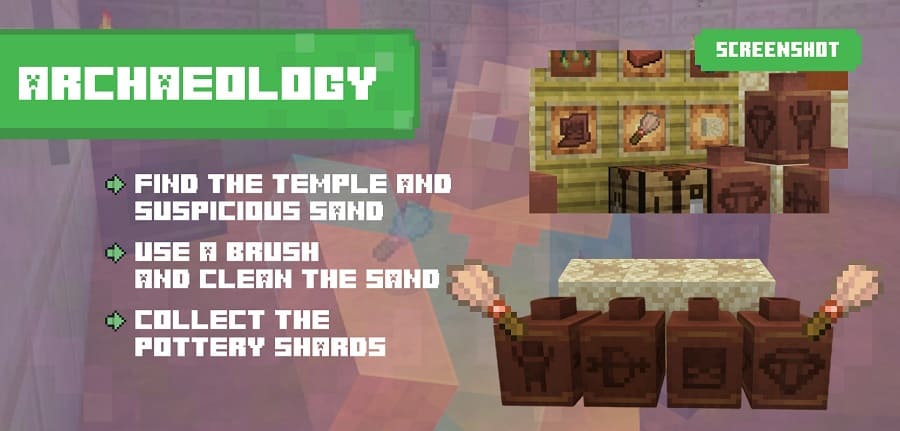 Suspicious Sand
It is found in a Deserted temple and wells

Hard to find and easy to break

Can be cleaned with a Brush

Cleaning brings a variety of valuable items
Brush
Can be used to clean Suspicious sand
Pottery Shards
Available in four variants

There are drawings on the shards

You can't craft, but you can find

Decorated Pots
It is crafted from four Pottery Shards

The Pottery Shards have pictures on them, they cannot be crated, but can be found in Suspicious sand

Instead of shards, you can use Bricks, but the pot will be without a picture

Sniffer
The winner of the Minecraft Live 2022 mob vote is officially coming to the game. Meet the Sniffer!
Sniffers cannot be tempted or tamed

Sniffers are passive friendly mobs

Sniffer sniffs in the air and occasionally dig for seeds
Torchflower
The Torchflower seed can be planted on farmland and grows into a flower

The seed can be used to breed two Sniffers

The full-grown flower can be harvested and replanted but can also be crafted into a dye

Changes
Sounds from all Button types and Lever are now controlled by "Blocks" slider in Audio Settings

Ghasts sound volume will now fade the further they are from the player

Fixes
Fixed a bug where an Allay holding a Lead wasn't able to be leashed unless the player held a full stack of 64 Leads in hand

Fixed a bug where Hoppers would not pull in items after being unpowered from Redstone

The loading screen no longer flickers when entering the Nether in immersive VR mode

Fixed loaded Crossbow staying loaded after shooting