The developers have released the Minecraft 1.19.50.02 release update on Android and all other platforms. Spectator mode is out of testing, various changes have been made, new skin characters have appeared, bugs have been fixed.
Changes
Updated the model and texture of the Vex

The Vex retains a slightly larger hitbox to make it easier to fight

Structure Blocks can now import structures from '.mcstructure' files on Windows

Updated Add-On templates for19.50 with new resources, behaviors, and documentation are available to download at aka.ms/MCAddonPacks

Spectator Mode
Spectator mode is coming officially to Minecraft: Bedrock Edition! Now this function does not require the inclusion of Experiments!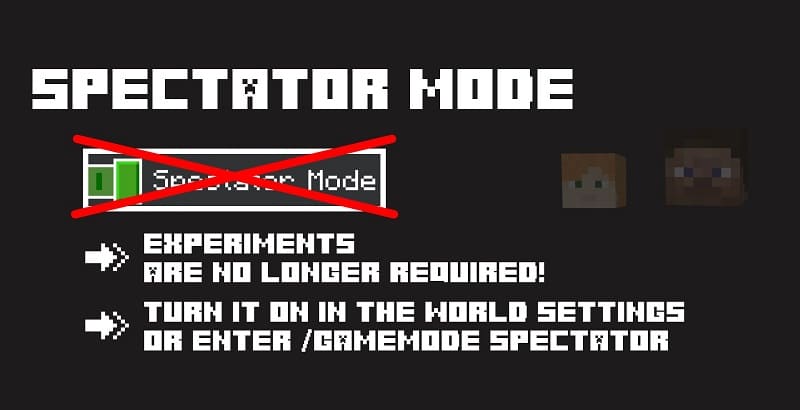 New Touch Controls
Smartphones and tablets have been switched to a new touch control.

New Default Skins
Added 7 new default skins. All available Minecraft characters:
Sunny

Kai

Makena

Steve

Alex

Zuri

Efe

Ari

Noor

Vanilla Parity
Developers continue to improve the equality of Minecraft Bedrock and Java Edition versions. This update makes some significant changes.
While playing tag, baby Villagers will now run at a quicker speed that matches Java Edition

Wooden Doors, Iron Doors, Wooden Trapdoors, Iron Trapdoors, and Fence Gates now use the same opening and closing sound effects as Java Edition

Added unique button click sound for Wooden Buttons to match Java Edition

Lily Pads now pop with sound and particles when run into by a BoatLily Pads now pop with sound and particles when run into by a Boat

Next Major Update
A new switch Next Major Update has been added, allowing you to try out the features from Minecraft 1.20 right now!

Fixes
The release contains fixes migrated from the beta versions.