Developers have released a beta version of
Minecraft 1.19.50.21
with the first content from the update
1.20
. Added Camels, Hanging Sign, Bamboo blocks and rafts, Chiseled Bookshelf.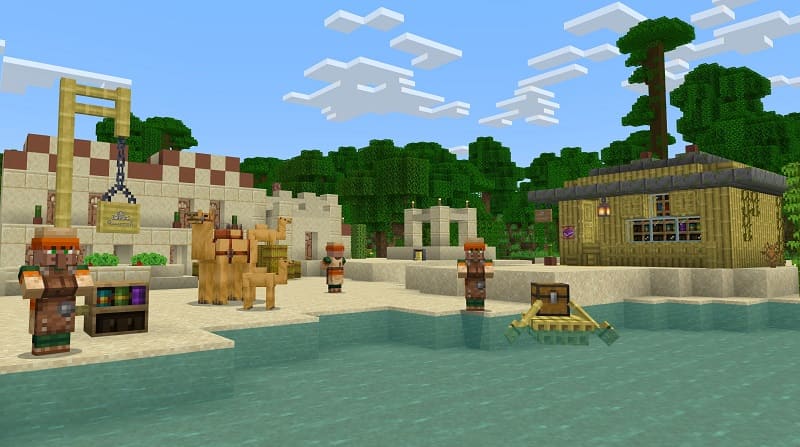 Experimental Features
Introducing the next major update experimental toggle. Help us try out and develop the new next major update content!

Please remember worlds that have used Experimental toggles will always be flagged as Experimental. We recommend keeping these Experimental worlds as separate copies from your main saves. More information can be found in this article.
Bamboo Wood Types
Added new base blocks for Bamboo Wood types

Added recipes for Bamboo Wood types

Added Bamboo Flooring block variants

Added Bamboo Raft and Raft with Chest
Camel
Added Camel base mob functionality

Added two-seat rider functionality to Camel

Add Dashing ability to Camel

Camels randomly sit down for a short amount of time

Camels can spawn in desert villages

Camel is a tall animal and the rider is high enough in the air that melee mobs can't reach them
Chiseled Bookshelf
A new, chiseled variation of the Bookshelf

Crafted with 6 Planks and 3 Wooden Slabs

Can store Books, Book and Quills, and Enchanted Books

Holds up to 6 Books

Keeps the stories and lore of your world safe

Comparators can detect the last book placed/removed

Perfect for hiding secrets in your spooky library
Hanging Sign
Added Hanging Signs, which can be placed beneath and on the side of a block

Added Hanging Sign of all wood types and recipes

Hanging Signs can be placed under narrow blocks with center support

Hanging Signs have their own specific UI when writing text on the sign