The new release version
Minecraft PE 1.16.200
is aimed not only at eliminating errors from previous versions, but also brings new features to the game — Render Dragon, RTX, more parity with Java Edition and new detailed sound settings!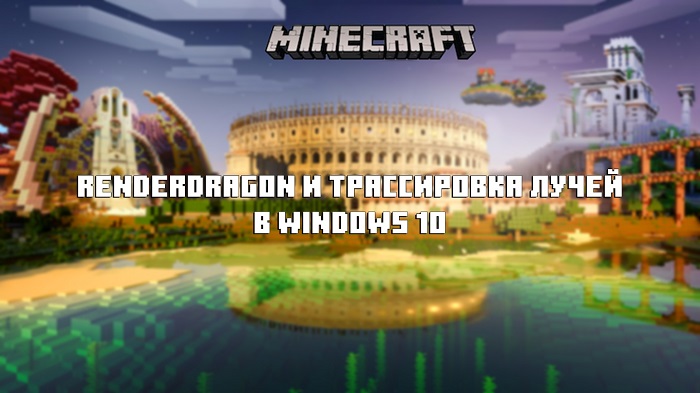 RenderDragon:
RenderDragon is a new graphics engine for Bedrock platforms, it is now available on Windows 10.

RenderDragon was developed by the Mojang Studios graphics team to improve the performance, stability and flexibility of the game. The new RenderDragon architecture will make it easier for developers to add new graphical features to the game.

RenderDragon has been available for Xbox and PlayStation since 2019, but now appears in Windows 10 as well. In the future, it is planned to integrate RenderDragon with all Minecraft Bedrock platforms, including mobile devices.
Minecraft with ray tracing:
Ray tracing is enabled in Windows 10 with compatible graphics hardware.

Players can radically change the appearance of the game. Immerse yourself in a voluminous fog. Take a look at Minecraft in a whole new light with the ultra-modern Ray Tracing dynamic lighting system.

RTX players can see new features of blocks — metal surfaces, relief maps, normal maps and realistic reflection.

The content in the game store now knows about ray tracing capabilities and will show a label indicating RTX support.
Minecraft with OpenXR:
Minecraft in Windows 10 now uses OpenXR to support Windows MR and Oculus VR.

OpenXR is a free and open source API standard for VR and MR devices.

The introduction of OpenXR in Minecraft provides a more unified experience with VR and MR devices, as well as support for future devices.
New features:
New volume settings:

The sound settings menu now contains additional options for detailed sound settings of the game. Now you can change the volume of music blocks, mobs, weather, etc.

Parity, changes and fixes:

Basalt can no longer be destroyed by Ghast fireballs.

Basalt blocks now take a little longer to break down.

The dragon egg now always falls as an object when it is destroyed by an explosion.

Right-clicking on a snow block with a shovel no longer destroys the snow block.

Grass paths can now be shoveled through mud, podzol, mycelium, coarse mud and grass.

The texture of netherite leggins has been updated.

Twisting vines can no longer be placed on composters if the player is sneaking.

Netherite armor now reduces drop by ninety percent.

Bees will no longer fly away from their hives for more than 22 blocks.

Known issues:

Players using Minecraft on Windows 10 N 32-bit systems may experience crashes when downloading the game if the Media Foundation Pack is not installed. This problem can be solved by downloading and installing the Media Foundation Pack.

Players cannot return to the world after disconnecting from a suspended session.
Bug fixes:
Performance and stability:

Increased the speed of loading chunks when flying with elytra.

A large number of scheduled instant updates no longer cause the game to crash.

Fixed a crash that could sometimes occur when passing through a portal or flying in creative mode.

Fixed a crash that could sometimes occur while flying or moving around the game world.

Fixed a crash that could occur when loading the local world.

Fixed a bug that caused sound to disappear on some mobile devices after pausing and resuming the game.

Fixed a bug that caused a crash on the Nintendo Switch when trying to load a set of resources with a resolution of 256x.

Basic:

Players who have the Founder's cloak will be able to see it again in the Character Editor.

Gameplay:

When an item is automatically created on the controller, only preview items will be displayed in the workbench. This prevents the recipe book from being updated quickly.

Fixed a bug where the player's hand kept swinging if this feature was disabled.

Mobs:

Fixed mobs and other entities that froze and lost synchronization with their bodies.

Residents will no longer steal workstations from each other.

Mobs no longer stop randomly attacking and following their targets.

Piglins that are close to each other can no longer pick up the same object if it has fallen between them.

Updated the texture of the Zombified Piglin to remove the flicker of the loincloth.

Mobs no longer appear in the Desiccant Rose.

Bees now fly out only from the front sides of hives and bee nests.

Mobs no longer teleport back and forth outside solid objects if there is not enough space for multiple objects.
For cartographers and developers of Add-ons:
Updated templates are available at the links: resource pack, behavior pack.

Bug fixes:

Blocks:

Components:

Added 'query.cardinal_facing_2d' to get the direction of the earth plane, which does not return up or down.

Added the ability to put block models in the 'models/blocks' folder.

Added the ability for trigger items to send events to the block they interact with.

Added the ability to request an interacting person both to interact with blocks and to use 'minecraft:on_use_on' in the subject. The person can be accessed with 'query.block_face'.