Mod
Arkcraft
is based on one of the popular games called ARK and adds a lot of new dinosaurs to the game. If you have played the original game, you will surely recognize many of them. In addition, many dinosaurs are tame and have different abilities.
Now a huge number of ancient creatures will appear in your world. Some of them are harmless, others are very dangerous. Thanks to this, your survival will become more difficult and interesting!
Forge table
It creates all the items from the add-on.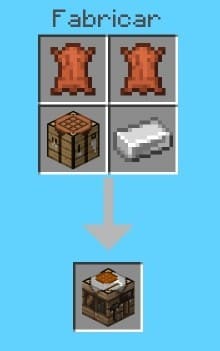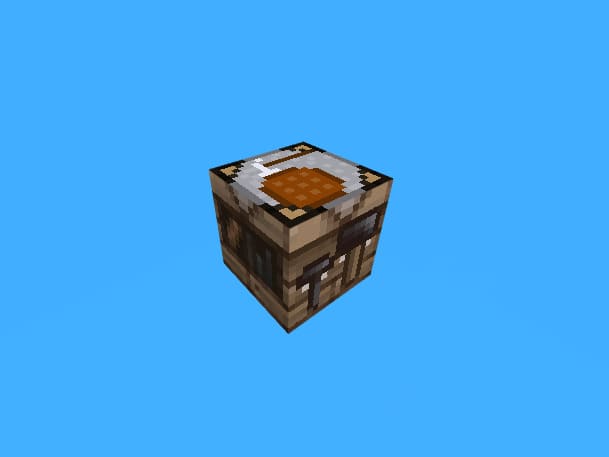 Kibble
Each feed is used on a specific creature and is used for taming.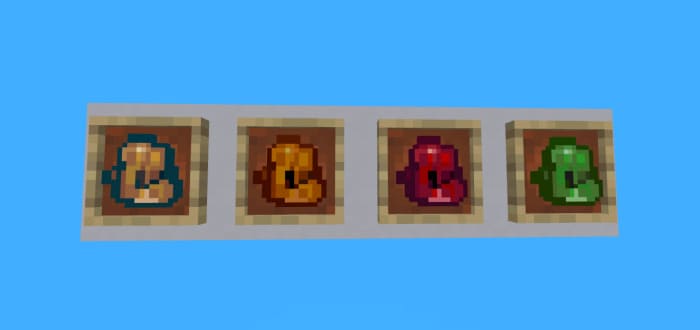 Narcoberrys
They are sold by a Tamer, they can be planted in clay for cultivation.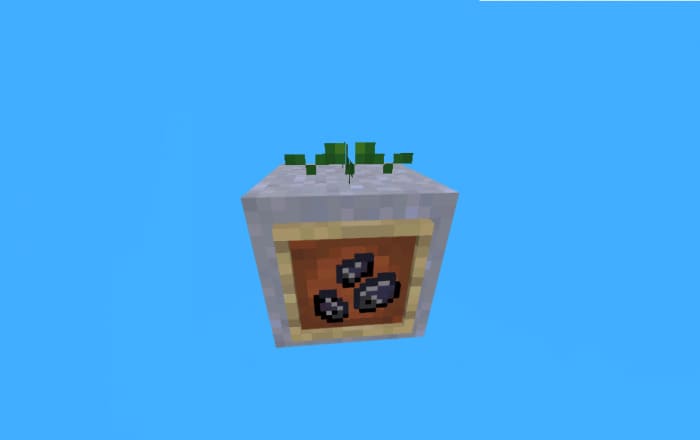 Weapon
Hooks are used for quick movement

Crossbow and soporific arrows are used to put some dinosaurs to sleep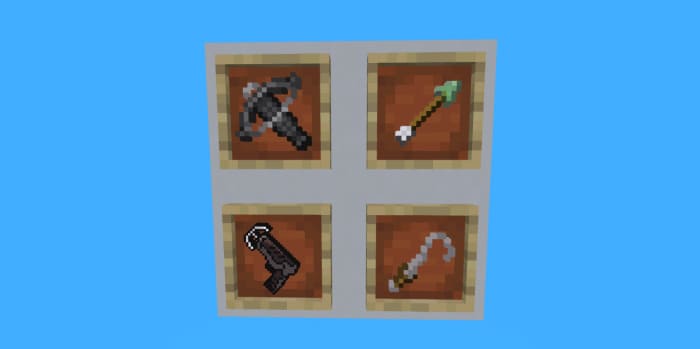 Whip
The whip is used to activate a special attack or dinosaur ability.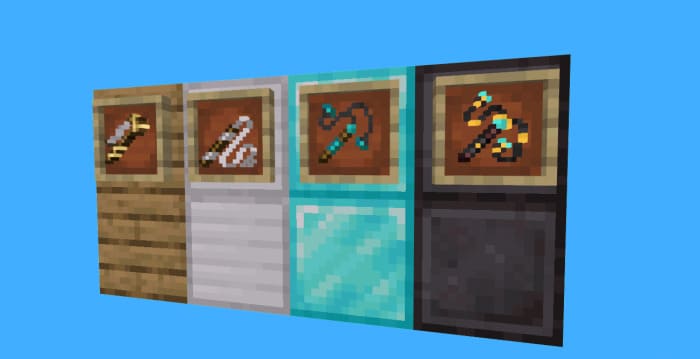 Items
Vaccine R: Feed a Compsognath and it will turn into a Velonasaurus egg R

Thermal Wool: can be obtained by feeding a Dimetrodon with wool, used on eggs of Magmasaurs and Velonasaurs R for their hatching

A bowl of spices (Bowl of Narcotics): can be obtained from poisonous ammonites (green) using a bowl or by cooking from a drug berry and rotten meat

Scargot slime: removes nausea and gives regeneration
There are many other items to craft and drop from mobs!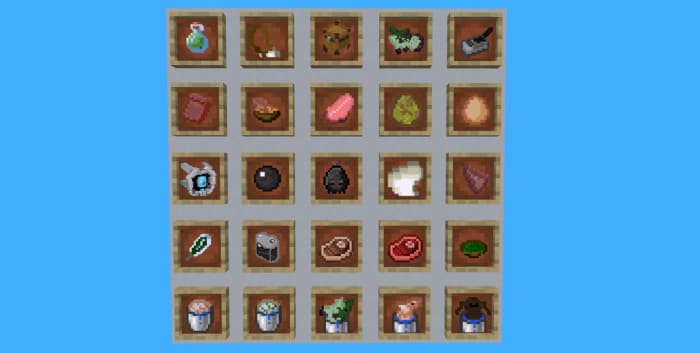 Archaeopteryx
Jumps high

You can put it on your shoulder to lower yourself more slowly from the air

Aggressive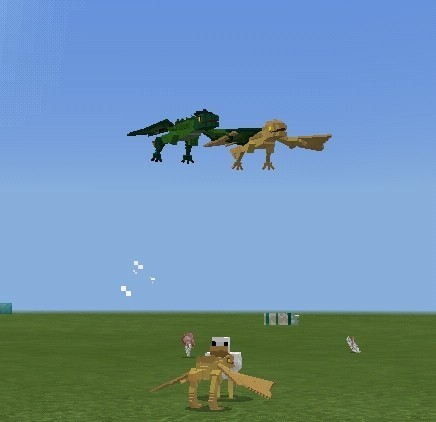 Argentavis
Flying Mount

Aggressive

Use the Argentavis saddle to be able to sit

Has excellent eyesight and is able to see the player from afar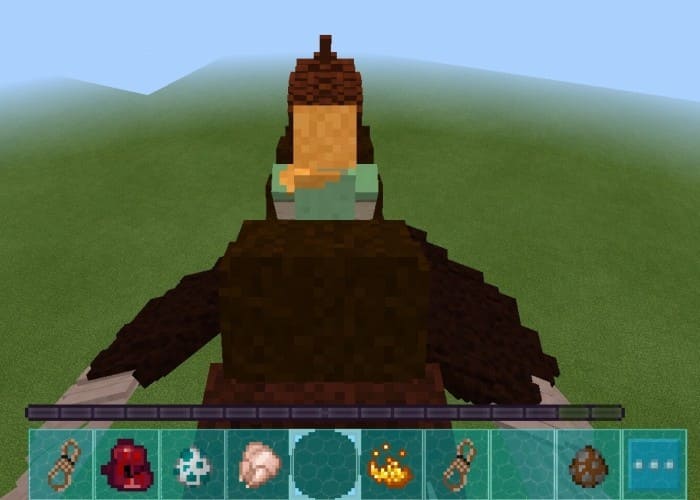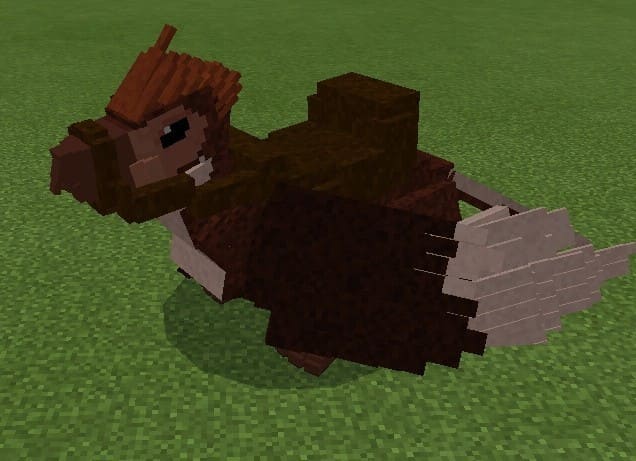 Belcbob
Immune to fire

When it sits down, it buries itself in the ground

Has a resistance effect

Cooked meat from it is the best food source

You can ride a big fantasy saddle

Aggressive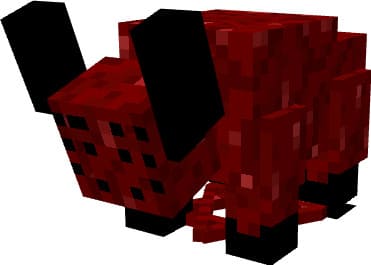 Carnotaur
Aggressive

In a state of rage increases speed and strength

Use the saddle of a large carnivorous animal to saddle

When the saddle is on it, it receives Resistance II, but moves slower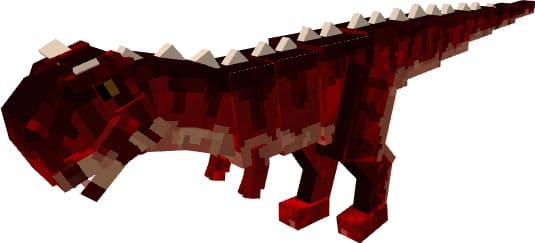 Llukalkan
Moves very fast

When using a whip, it works like a radar

Marauder sound: there are looters in 500 blocks around, it is possible that there is a patrol or an outpost nearby

The sound of a villager: there is an igloo or village in 500 blocks around

Champion Sound: there is a patrol or a mansion in 500 blocks around

Use the saddle of an average carnivore to saddle

Aggressive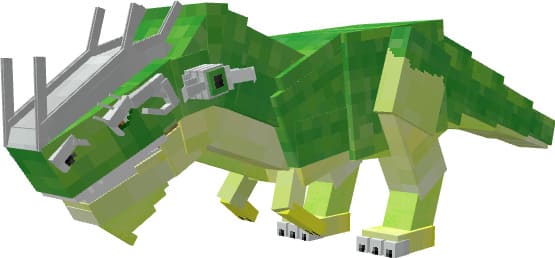 Micro Raptor
Can fly

You can reset a player who is sitting on another mob

His blows cause blindness and desiccation

Aggressive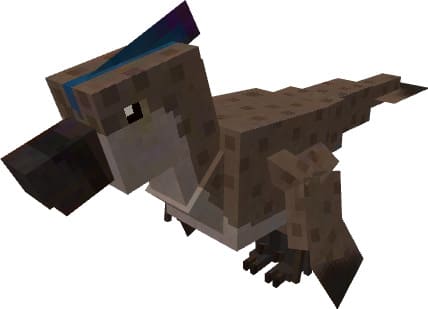 Nanuqsaurus
Very strong

Give him rotten flesh, he will turn it into raw meat

Aggressive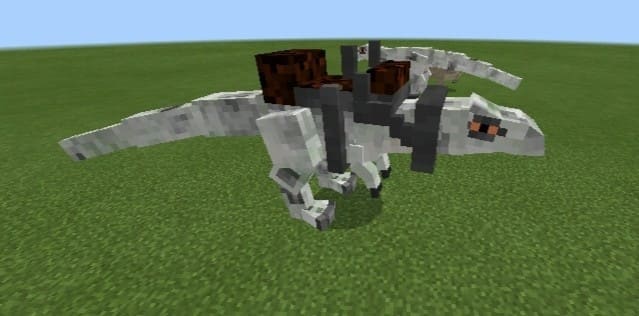 Teratophoneus

Velonasaur
Shoots hundreds of spikes

If you plant it and use a whip, the turret mode will turn on

Use the saddle of an average carnivore to saddle

Aggressive
Yuty
Can be tamed by drugging with narcotic arrows and ARK crossbow

You can apply a whistle to it

Use the whip to make a roar, this gives the dinosaur a power effect and its allies

Destroys trees while walking

Aggressive

Use a vanilla saddle
Rex
Strong and fast

It can be tamed by drugging it with narcotic arrows and an ARK crossbow.

You can use a whistle

Use the whip to let out a roar, after which it will slow down all the nearby mobs

Use a vanilla saddle

Aggressive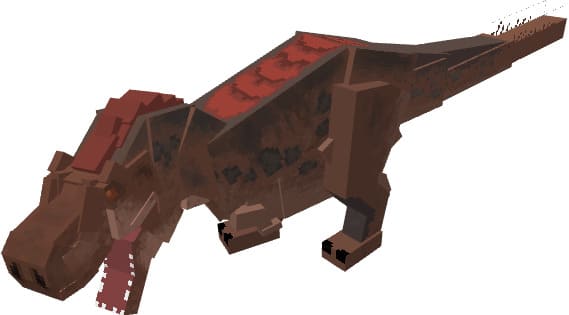 Pegomastax
Steals items from the player's second hand, except totems

Picks up objects from the ground

After death, good resources fall out

If you die next to him, he will steal your resources

Aggressive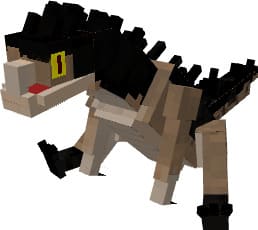 Mammoth
Neutral animal

Can throw it in the air with its trunk

Destroys trees and logs

Use a large herbivore saddle or a double mammoth saddle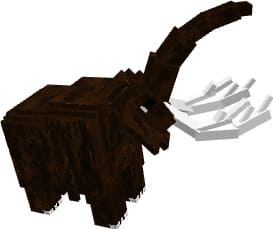 Ouranosaurus
Has a lot of health

Immune to fire

Changes the temperature if you hit with a whip

The high temperature sets fire to all mobs advancing on the hellstone

The high temperature also allows Uranosaurus to melt snow and turn ice into water

Cold temperatures turn water to stone

Cold temperature extinguishes fire

Cold temperature gives nearby creatures resistance to fire

Can be saddled with a saddle for large herbivores

A peaceful being

Give it the name Kratos to get a special skin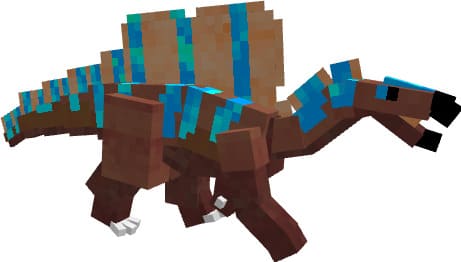 Parasaur
Feed the fern to get the berries

You can attach a chest

The mount can be painted with dyes

Can be saddled with a saddle for medium herbivores

Peaceful creature
Phiomia
Use the whip while riding it and all players except you will get nausea for 10 seconds

Can be saddled with a saddle for medium herbivores

Peaceful creature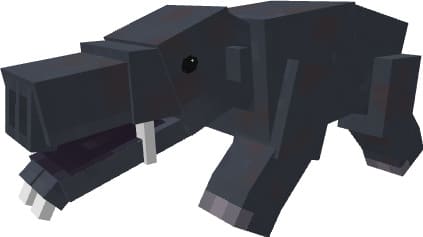 Scutosaurus
Use the whip to turn on the Farmer Mode and it will work as a Resident farmer

Has its own inventory without having to place a chest

Has a lot of health and resistance effect

Peaceful creature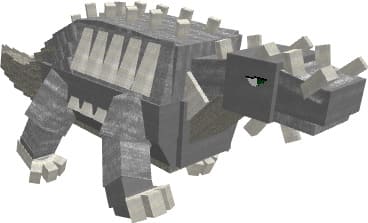 Ankylosaurus
Use the whip to attack with the tail

Tail attack deals 3 damage to enemies for 2 seconds

A tail attack turns nearby copper ores into iron ores

Tail attack turns bone blocks into calcite

A tail attack turns granite into oxidized copper blocks

Tail attack turns tuff into coal ore

A tail attack turns polished diorite into quartz ore

Tail attack knocks mobs away

Has its own inventory without having to place a chest

You can saddle a farmer with a saddle

Neutral creature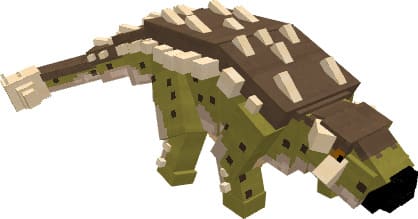 Daeodon
Aggressive and fast

Can eat any food to restore health

Feed podzol and he will give you mushrooms

You can place a chest to get inventory

Use the saddle of an average herbivore or the saddle of an average carnivore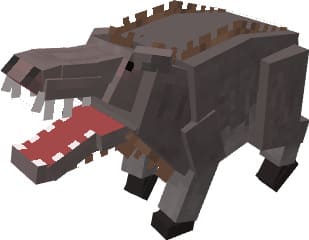 Doedicurus
Has little health

Hides in his shell and gets endless resistance

If Dedicurus is hiding in a shell, you can only attack him with potions or arrows of instant damage

Breaks stone and earth blocks while moving, except for ores

Has its own inventory without the need for a chest

Use the farmer saddle

Neutral creature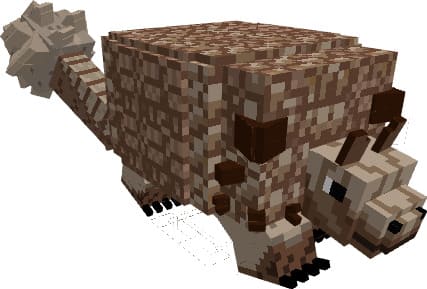 Suchosaurus
Can be tamed by putting to sleep with soporific arrows and an ARK crossbow

You can use a whistle

If the Suchosaurus has become wet, it gets additional strength and speed

You can saddle an average carnivore with a saddle

Ride it on the water and use the whip to inflict a lot of damage on the zone

Use a vanilla saddle

Aggressive

Lambeosaurus
Feed the dead coral to get the berries

Can be equipped with a chest

Can be painted with dyes

Useful for ocean exploration

Peaceful creature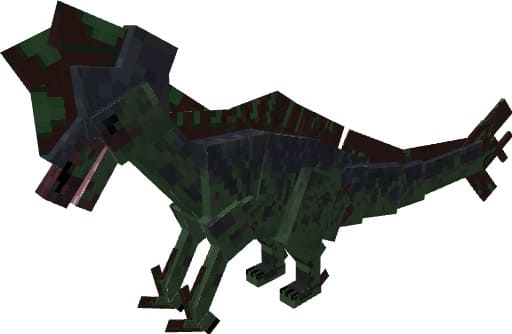 Baryonix
The attack imposes blinding and maximum slowness

The baryonyx egg removes the effect of slowing down

If it turns out to be wet, it increases its strength and speed

Use the saddle of an average carnivore

Aggressive

Irritator
cooked meat heals his health

He'll be sick if you give him raw meat

Feed him raw meat and get rotten meat

Becoming wet increases your strength and speed

Use the saddle of an average carnivore

Aggressive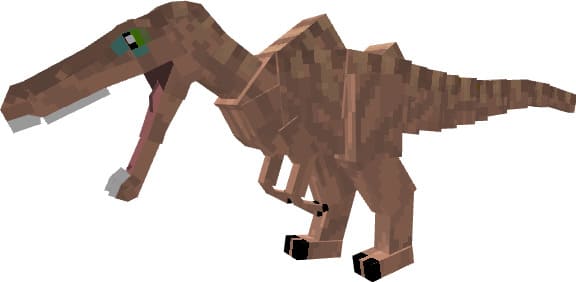 Spinosaurus
Can be tamed by putting to sleep with soporific arrows and an ARK crossbow

You can use a whistle

If wet, increases strength and speed

Use a vanilla saddle

Aggressive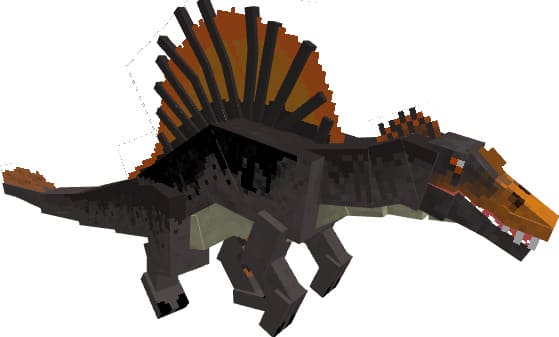 Diplocaulus
Aquatic animal

If you hit with a whip, it will allow you to breathe underwater next to it

Can be used as a bareback mount

Peaceful creature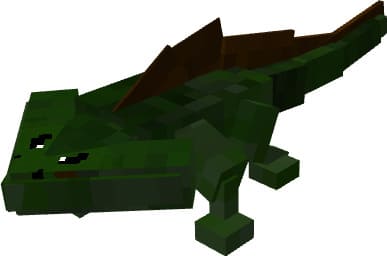 Dimetrodon
Has immunity to fire

If you hit with a whip, it will change the temperature

The high temperature sets fire to the nearest mobs advancing on the hellstone

High temperature melts snow

High temperature turns ice into water

Low temperature turns water into stone

Low temperature gives resistance to fire to nearby creatures

Peaceful creature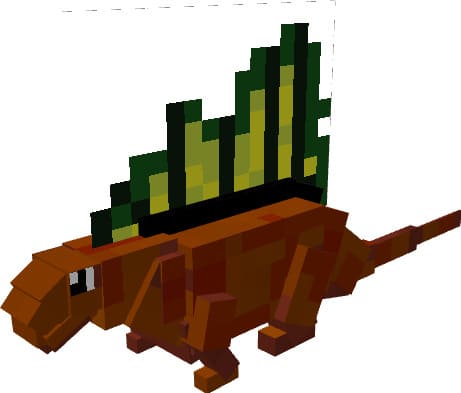 Quetzal
Flying Mount

You can use the mount to transport 5 players at the same time

Use a Quetzal saddle or a Quetzal platform saddle

Peaceful creature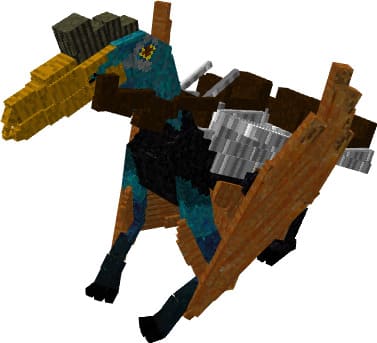 Skorpiovenator
Cement instantly hardens if a Scorpio-venator passes nearby

Picks up falling blocks

Use the saddle of an average carnivore

Aggressive

Alvarezsaurus
Has incredible vision and sense of smell

Able to detect animals at any distance

Attacks skeletons and arthropods

Neutral creature
Lymantria
Flying Animal

If you feed him a cake or pie, he will fully restore his health

When taking damage, it creates an explosion, dropping and slowing down, but not causing damage

Use the whip while riding to make a special attack with the effect of weakness

Use the Arthropod saddle

Peaceful creature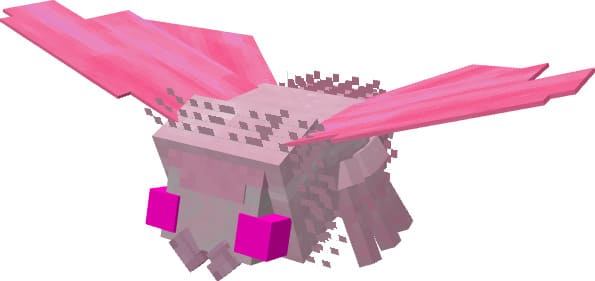 Pulmonoscorpius
The attack causes slowness

Can climb walls

Use the Arthropod saddle

Aggressive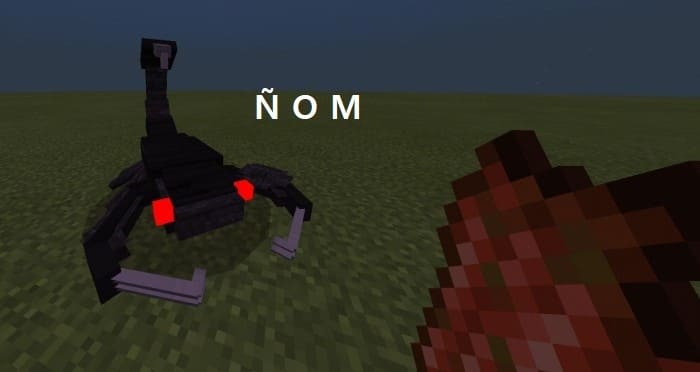 Thorny Dragon
It is thrown with spikes that impose all negative effects

Up to two players can sit on it

Can swim, can be used instead of boats

Has additional armor that gives him resistance

Sitting in armor, his defense increases

Use the saddle of the Spiked Dragon

You can equip a Spiked Dragon with armor

Aggressive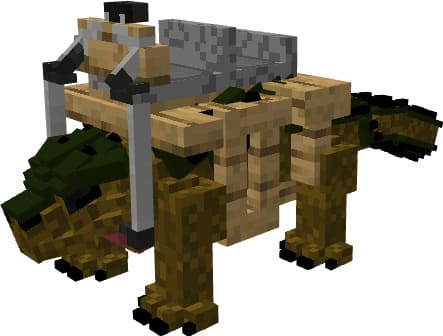 Shadowmane
Feed him a fish mod in a bucket when he sleeps.

Has male and female variants

Don't need a saddle

Use the whip to launch a lightning attack and turn on rage mode

Jumps far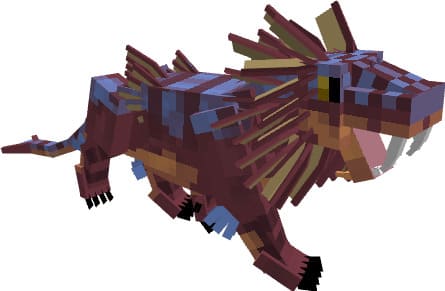 Bulbdog
Tamed by mushrooms

If you get too close to it, it will remove all the effects from you, both positive and negative

Give him sticks and he will turn them into torches

Peaceful creature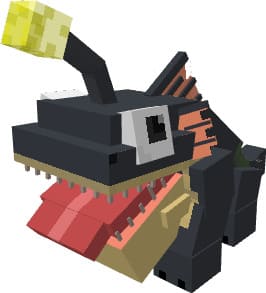 Deinonychus
You can tame it by going to the nest and giving its egg a thermal cloth or fire powder

Blows cause desiccation and deceleration

Jumps far and falls slowly

Does not take damage from falls

Use the saddle of an average carnivore

Aggressive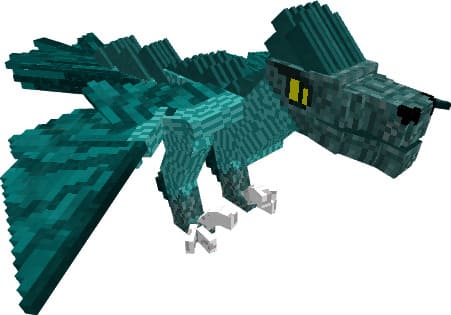 Magmasaur
Has immunity to fire

You can tame it by going to the nest and giving its egg a thermal cloth or fire powder

Raw iron and obsidian are used for feeding, healing, cultivation and domestication

If you bring your head to the stove, it will be filled with coal

Shoots fireballs

Creates an explosion when hit

Moving through lava restores health

While moving through the fire, it becomes much faster

Add a large fantasy saddle to get the Protection II effect

Use a large fantasy saddle

Aggressive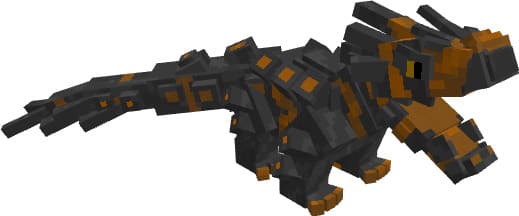 Majungasaurus
Tamed by Mayungasaurus meat

His punches are strong, but he needs time to attack

If he sees another representative of his species, or a Carnosaur, a Scorpio-venator or a Lucalcan, he will attack him

Use the saddle of an average carnivore

Aggressive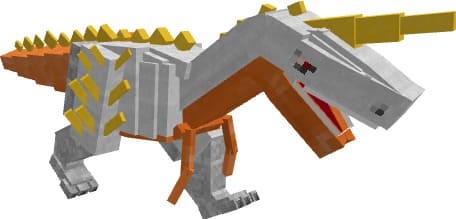 Velonasaur R
Unlike a regular Velonasaurus, it can be obtained by feeding a Compsognath with a "Syringe R"

After feeding, it will turn into an egg

Shoots hundreds of spikes

Land and use the whip to activate the turret mode

Rename it to Copper and it will change the texture

Aggressive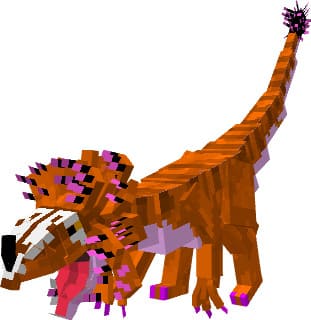 Reaper
To get your own reaper, you will need to fight with him

When the reaper has little health left, you will have a reaper

The Reaper is born after a while

To tame the born reaper, you need to use Pearls of the Edge

The baby Reaper has little health and takes damage from the Sun

The Reaper can jump high

The reaper can dig into the ground

Can be saddled bareback

Aggressive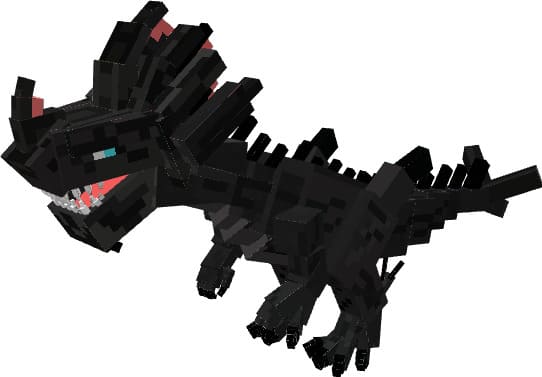 Compy
Feed raw meat and Compsognath will become your friend

Small and weak, but attacks in a pack can cause problems

Aggressive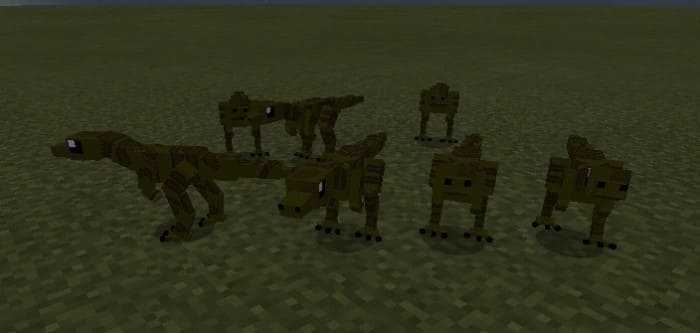 Dodo
Give this bird a herbal meal, after which it will become your friend

A very weak bird

Has inventory, no need to place a chest

Has various options, some glow in the dark

You can't tame it, but you can sit down to access the Dodo inventory

Neutral creature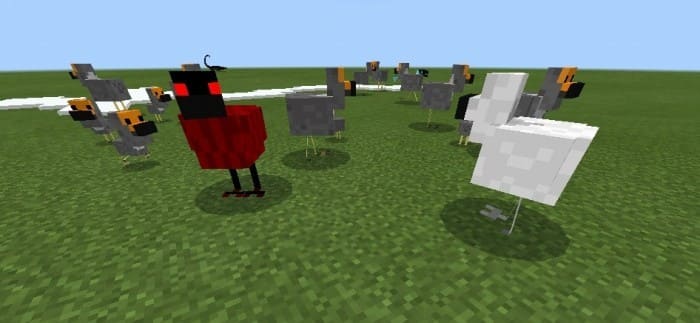 Lystrosaurus
Give him any herbivorous food, after which he will become your friend

You can give sugar

Drops bubbles with experience similar to chicken eggs

Peaceful creature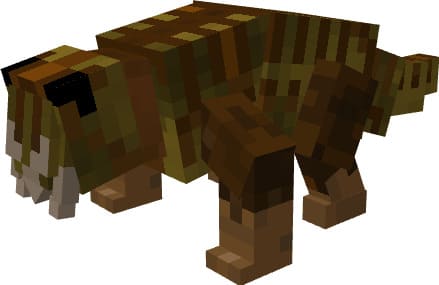 Macrauchenia
Tamed like a horse

Can't be planted, use a leash

He jumps very high and far, which is useful for mountains

It has two options

The first option is slow, but has more health and resistance

The second option is faster, but less health (looks taller and skinny)

Use a saddle for medium herbivores

Peaceful creature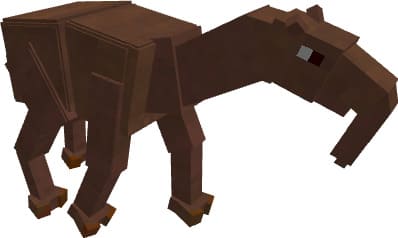 Achatina
If you get too close, his mucus will make you weak

After death, mucus falls out, giving regeneration when consumed and treating nausea

Eats foliage from the ground

A peaceful being

Inhabits swamps and taiga

Ainiktozoon
Peacefully a giant inhabitant of the ocean

Has impenetrable armor

It is recommended to attack it with effects such as poisoning, desiccation, use instant damage arrows, a trident with a Piercing charm

After the death, fragments of the helmet fall out
Ammonite
The color indicates a peaceful creature or an aggressive one

Green ammonite poisons

The orange ammonite can cling to the turtle and creates water flows, giving the player speed underwater.

Give the ammonite a bowl to get the substances

Ammonite can be caught with a bucket

Orange option is friendly, green is aggressive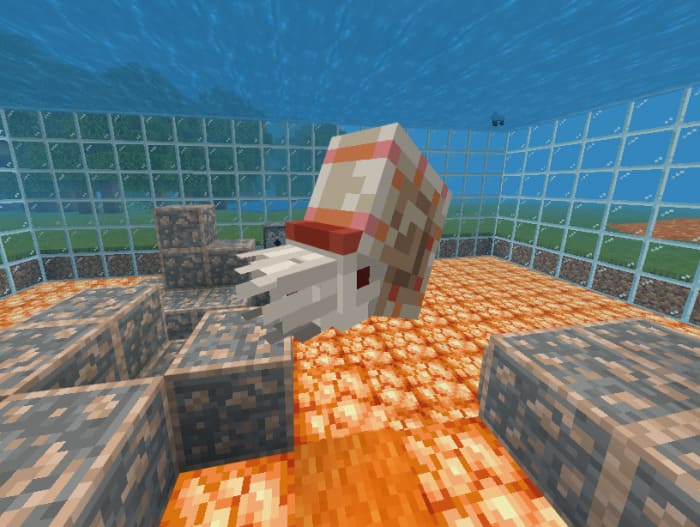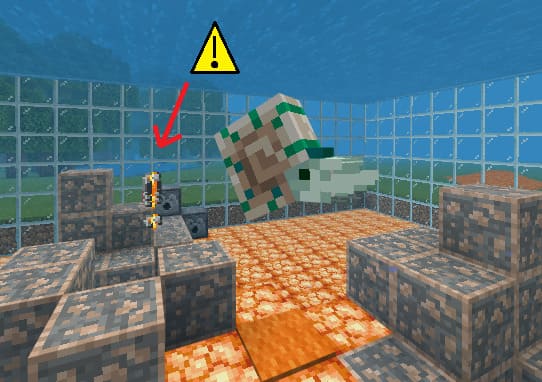 (Ammonites)
Dune Pulmonoscorpius
A peaceful being

Dies from a single blow, releasing poison
Dunkleosteus
Aggressive and has good vision underwater

His armor is strong, he is immune to arrows

You will have to fight him in close combat

It has large dimensions and is very sedentary

After death, from 1 to 194 metal nuggets fall out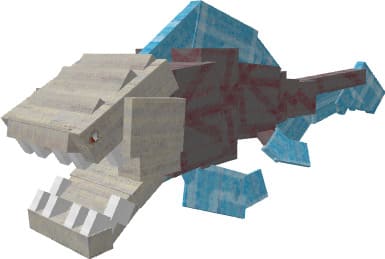 Helicoprion
Aggressive and fast

It has a long range of attack, so it is not recommended to attack near

It is best to sail by boat, attacking with arrows and other long-range weapons

Can instantly destroy the boat, so take a few

After death, the fangs and fin fall out

The fin is used for cooking delicious soup

From 8 fangs, you can create a necklace that gives the effect of Power II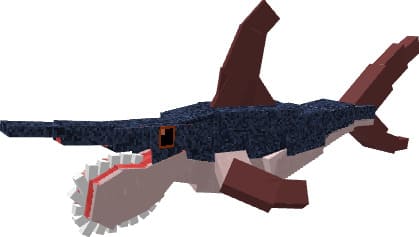 Mawsonia
Meat is necessary for obtaining water feed

You can catch it with a bucket

Use algae for breeding

Peaceful creature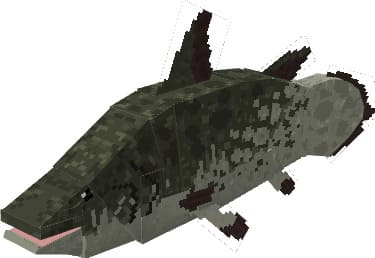 Mega Raptor (Mega Raptor)
Strong and very big

Neutral if he is the Tamer's pet

Aggressive

Ovis
Attacks randomly

Imposes slowness

You can cut the wool and dye it

Propagated by wheat

Neutral mob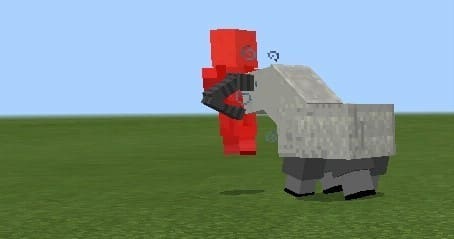 Pikaia
It sticks to the body, imposing slowness, hunger and weakness

Dies if you stand on a bonfire

Dies being locked up among the blocks

Dies from gunshots

Aggressive

Qilinyu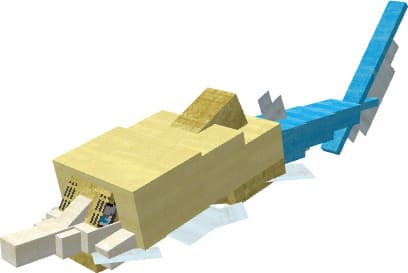 Thorny Demon
It is small in size, but attacks with poisonous thorns

Poisonous thorns impose various negative effects

Aggressive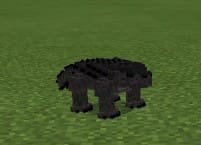 Trilobite
You can catch it with a bucket

After death , it secretes oil

Peaceful mob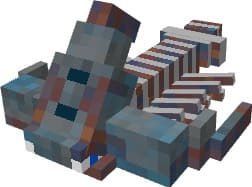 Water Bug
Hit him with a stick to get food

When attacking with a stick, it imposes a poisoning effect

Peaceful mob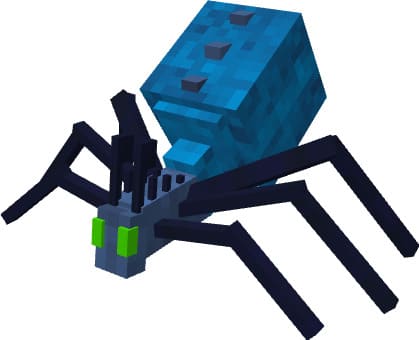 Vija (Weeja)
Drops phantom membranes

Neutral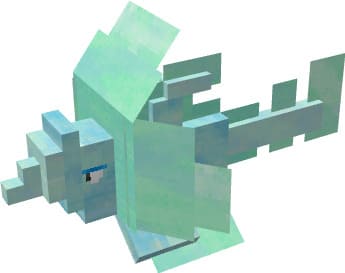 Tanyrichyhys
You can catch it with a bucket

Turns a fern into charcoal

It comes in different sizes

Peaceful mob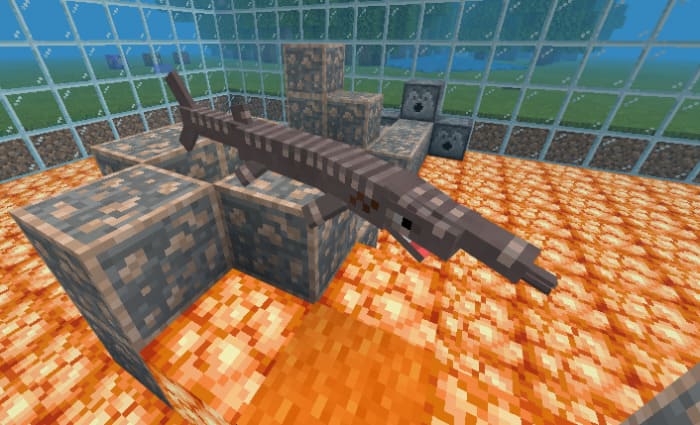 Hesperornis
Throw a fish and get a bubble of experience from it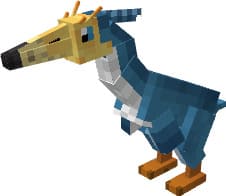 Zilla
Tamed with (unknown), after you knock it out with (unknown)

Summoned with (unknown)

Health: 1000

Powerful bites

Huge size

Use a large fantasy saddle to saddle