In this mod, you can combine items and improve them by adding new effects, abilities and a unique look! Mod
"Merging Items"
adds 11+ new items to
MCPE
that you don't even know about!
10 of the added items can be crafted, and 1 item cannot be crafted, and you will learn below why it cannot be created!
Items being created
Diamond pickaxe made of raw beef
– as strange as it may be, but you can eat it and get a Speed of 255 effect, which will be enough to get Ancient Fragments in 0 seconds! The crafting recipe is simple, you will need raw beef and a diamond pickaxe.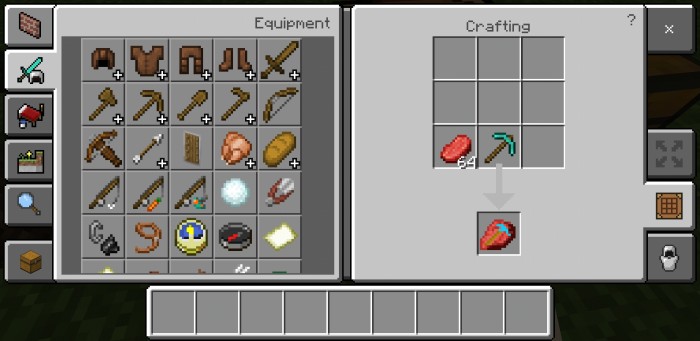 A bottle of explosives
– excellent for protecting the base, has no recharge time and deals damage to 2 hearts for each explosion. Crafting on a workbench with a Potion of experience and TNT.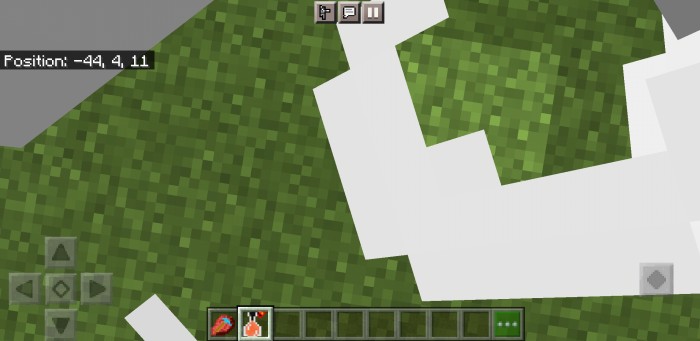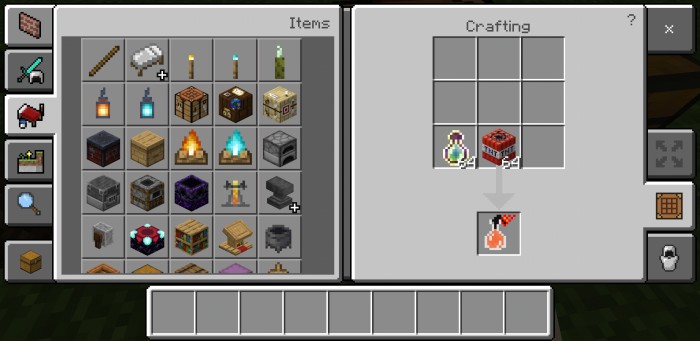 Studded Shield
– this crazy item deals 50 units. Damage to the attacking mob/player! This is enough to kill the Ravager with one blow! It even has a magical glitter on it, which makes it even more special. It is created using an Iron Sword and shield.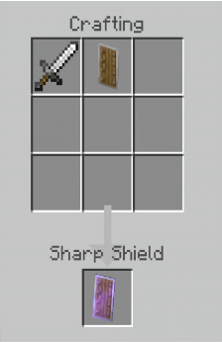 Harpoon
– perfect if you require food because it gives raw cod when used! It also gives you Night Vision and a Power guide to help with fishing. Harpoon deals 10 attack damages! An Iron sword and a fishing rod are used to make it.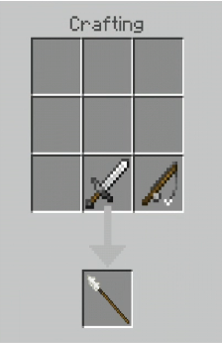 Spy helmet
– you can eat this thing. This is very useful as it gives you the Slowness of V and zooms in! This is another item with enchanted brilliance. A carved pumpkin and an iron helmet are used to make it.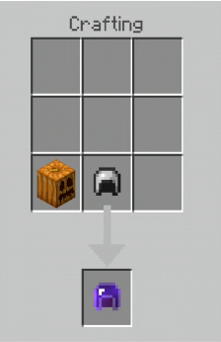 Explosive arrow
– similar in usefulness to a bottle of explosives, but it is MUCH more powerful. Without full iron armor or something better, you will blow yourself up! It is made of TNT and boom.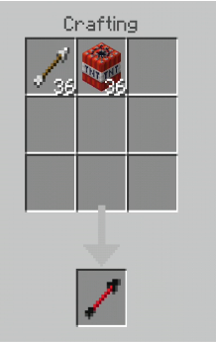 Blindness Arrow
– gives Blindness II to any mob it hits! You can use this in a maximum security prison! An Ink Bag and an Arrow are used to make it, try using it on an Ender Dragon; it will go crazy!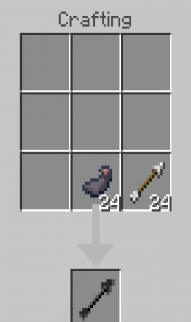 Miner's Helmet
– gives you Night Vision II when you hold it so that it is easier for you to mine diamonds. He also has the ability to burn grass and turn it into a path block! A torch and a Chain Mail helmet are used for its manufacture.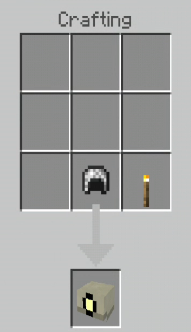 An iron trap
is a trap plate, if any entity is on it, it instantly dies. It is also perfect for protecting the base and approaches to it. An iron grating and an iron door are required for manufacturing.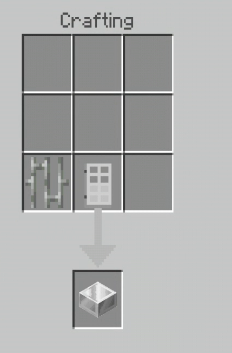 Combined Armor
is a set of armor that gives incredible protection performance. As soon as you put on the full set, your armor strip will increase several times. A set is created separately by combining gold and diamond armor. In the inventory, the armor looks green, but as soon as you put it on yourself, you will see a really beautiful and powerful set with gold and diamond inserts.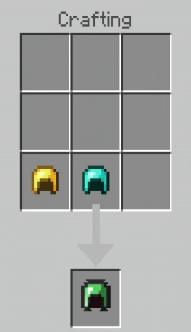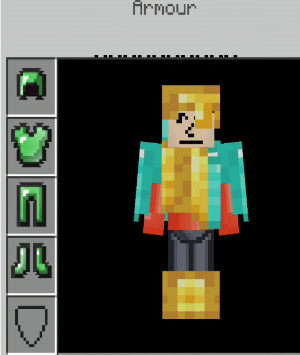 An item that cannot be created
That's the very thing that cannot be created is
Red stone explosives
. The reason it can't be created is because it's incredibly powerful. It explodes as soon as you set it on fire because of the Red Stone that is part of this item. Deals damage of 5-13 hearts, depending on how close or far the victim is.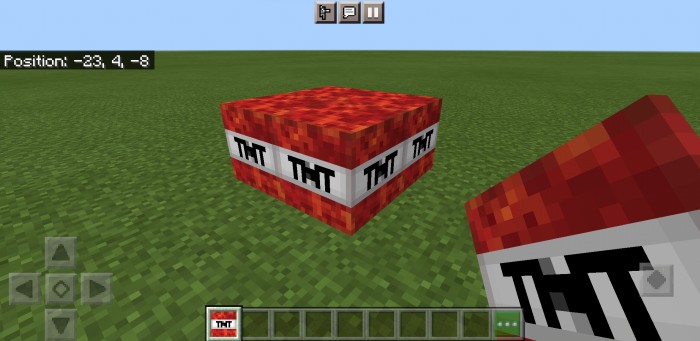 Version 1.0.3
Night Pickaxe
– This pickaxe has a 5% chance of giving you night vision and a 0.5% chance of increasing your speed. (The probability of both at the same time is 0.01%). Keep switching tabs and then you can just get the effect(s)! An iron pickaxe and a torch are used to make it.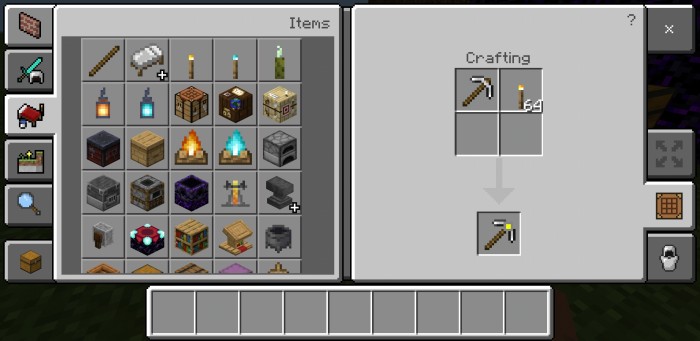 Squid
– this item becomes three-dimensional when you hold it in your hand! He launches Squid out of it. Don't forget to put them in the water, otherwise they will die. You can create it with an ink bag and a crossbow.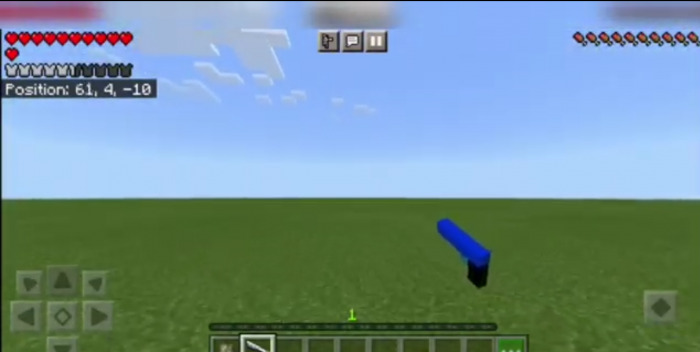 Lightstone Arrow
– this arrow gives Night Vision II to everyone it hits, and even looks amazing! Luminous dust and an arrow are used to make it.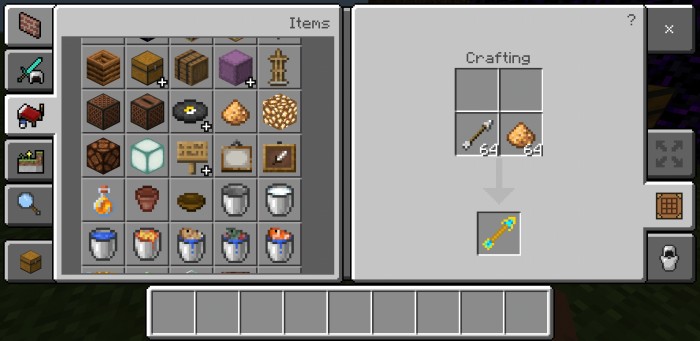 Netherite workbench
is the only workbench with exclusive recipes! It is possible to create powerful Netherite items on it. You will need to kill the Desiccant to create it, as crafting requires a workbench and a Downworld star!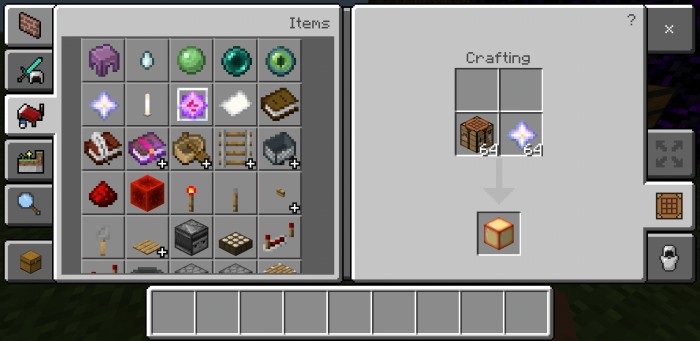 Netherite pearl
- this pearl can be stacked up to 32 pieces, unlike the usual one. It is made from the Pearl of the Edge and the Star of the Underworld, and to create it requires
Netherite workbench
.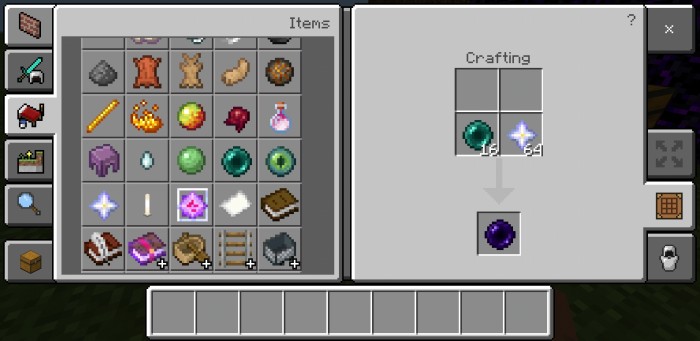 Netherite sword and breastplate
– 2 mighty tools! The sword has 500 units. Damage from the attack and can kill the Ender Dragon in 2 hits, and the breastplate overloads the armor panel. Their manufacture requires
The Netherite workbench
and the Netherite Sword/Breastplate and the Star of the Nether World are used.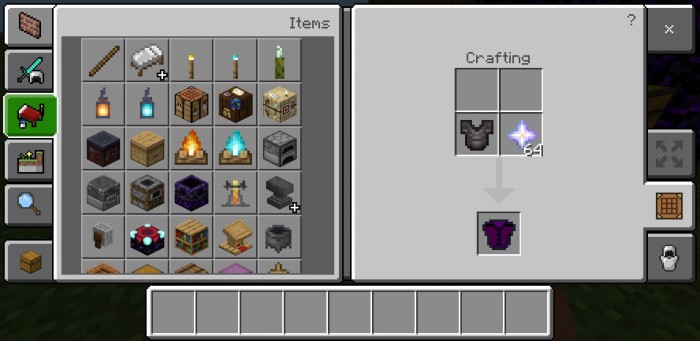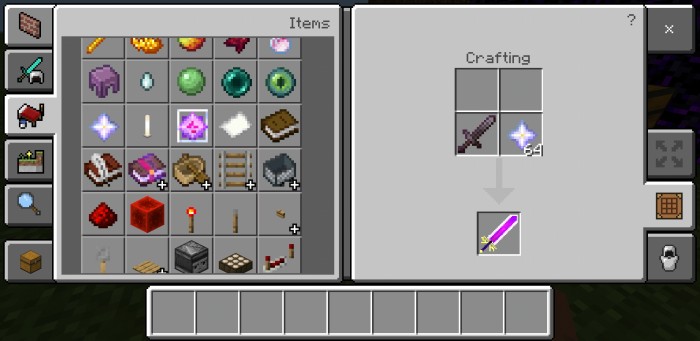 Last update:
v1.0.3 (May 26, 2021)
What's new?
Added 3 common items to combine;

Added 4 Netherite items to combine;

Added a secret item;

Textures have been edited.