Forget about the existence of an ordinary and boring Spyglass! Apart from observing distant objects, it contains no useful functionality, but this
addon
will fix it! Now you will have an improved telescope, which will give you many new features.
Don't forget to enable experiments in the world settings before using the addon.
New functions
Equipment Indicator

Compass

Health Indicator

Effect indicator

Indicator name and type
As you can see, the compass is on top.
The left panel displays the name of the mob, health and type (passive, neutral, hostile).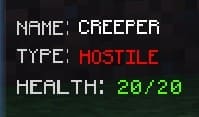 The right panel is an equipment indicator.
The bottom panel is for the effects indicator.
An inactive effect is displayed with a semi-transparent icon.
If the effect is active, it is highlighted.