HIDWOODS
is an addon that will completely change the World in
Minecraft PE
into a whole new dimension, including customizable biomes, mobs, blocks, items and other features.
For the mod to work, you need to activate
Experimental gameplay
in editing the world.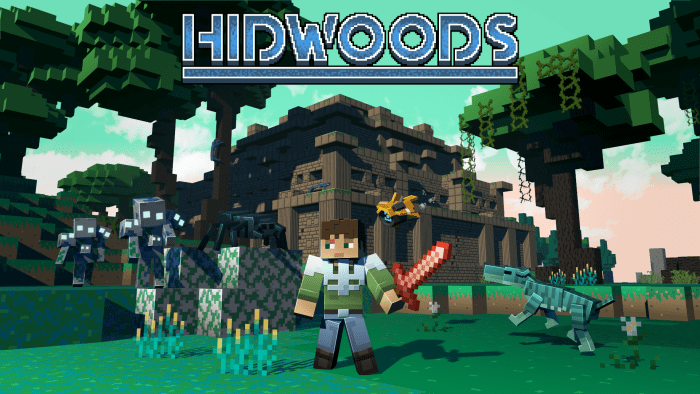 Basically, in this new environment, you will appear next to the landing capsule and meet various hostile and peaceful creatures scattered across different biomes.
Functions:
A whole new world

Customizable generation

Various terrestrial and aquatic creatures

New blocks

New items

Structures

New game mechanics.
Customizable world generation
The generation of the world consists of new biomes:
Hidwoods Forest, mainly consisting of Tsepri trees, a large type of tree with blue leaves. This is the most common biome. Large sandy areas are usually found around this biome;

Derosa forest, consisting of Derosa trees. This biome is quite rare;

Khodren Lands, a biome consisting of khodren grass and dried mud;

Mirik forest, a biome commonly found near plains or forests. This biome consists of mud and water. Here you can find Myrick trees;

Plains very similar to the vanilla biome;

Desert spikes consisting of sand, dried mud and terracotta. Plains of sand and grass are often formed nearby.
Entities
Most of the creatures are terrestrial creatures that can be found on the surface day or night.
The natural spawn of vanilla entities is disabled, although they can be found in villages or spawns of mobs.
Phy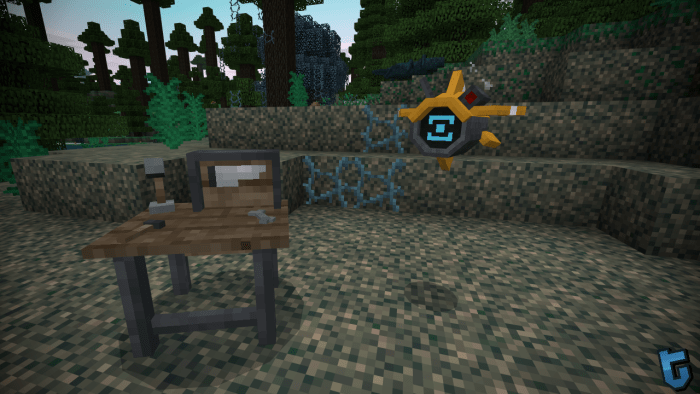 Phy, also called Phy the bot or Phybot, is a small flying robot that the player can tame with batteries. Tamed, this little robot follows the player and helps him in battles.
Acrylic
This entity is found everywhere on the surface, be careful!
Halodan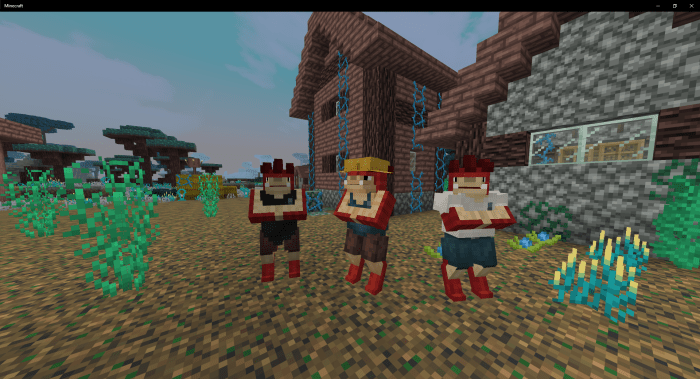 These are the villagers who meet in the villages. They have something to sell for you.
Secretive plant
Kobu
Likams
Midlin
The most common form of Midlin is the humanoid depicted in the picture, however, there are small and tiny Midlins. Another version of Midlin is Midorok Boss.
Facret
Rocado
Aurasson
Poysharp
Okrossa
Sirod
Blocks and items
More than 100 new blocks have been added, many of them decorative.
This addon adds many new items such as food, ores, swords and more.
Blocks and items are still experimental gameplay features and are likely to change, so we will not describe each block and addon elements here.
Manual
An in-game guide with a description of all entities, crafts and important game functions is available at any time.
Screenshots from the game:
Natural generation of a large structure, but what's inside?
Dangerous caves full of useful resources!
Flight to Doko!
Some furniture and decorative blocks.
Solar panel and 2 chargers.
Installing the Hidwoods mod (.mcaddon):
Download the mod file marked .mcaddon from the link below.

Just open the file (via ES Explorer on Android) and the game will install everything you need by itself.

Launch Minecraft and go to edit the world.

Select Texture sets.

Find the texture pack and activate it.

Select Parameter sets.

Find the add-on and activate it.

The mod is installed, have a nice game!