Friendly frog mobs are an integral part of the Minecraft gameplay. Their vivid images definitely decorate the swamps and sell them realism.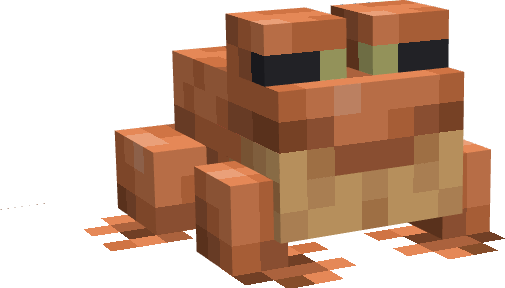 Features
The developers have endowed frogs with health in 10 hearts
The height of the jump reaches 8 blocks
Gets 10 damage when falling
Mobs can be heard by the loud croaking and see how their throat sac swells
They prefer to attack small slugs and lava cubes, attracting prey with their dexterous tongue
Types of frogs and spawn
Due to the fact that there are several types of frogs in Minecraft. The color depends on the biome in which the frog grew up or was drowned..
Orange frogs (moderate) appear in swamps and mangrove swamps, can be grown in the Taiga, among the plains, in ordinary and dark forests, mushroom fields and hills
Green frogs (snowy) grow from tadpoles in the snowy Taiga, Tundra and frozen ocean
White frogs (tropical) grow from tadpoles in all biomes of the Lower World, jungle, wasteland, desert, savannah, warm ocean and mangrove swamps

Breeding
Slime is used to breed frogs. When the player gives slime to mobs, they will enter the breeding mode, which will lead to the fact that they will spawn and after a while a tadpole will appear from it.

Attacking small magma cubes, they drop Froglight block.

Drop
Frogs drop nothing except 1-3 experience.
By the way, if a player needs a frog of a certain color, you can summon it with the following commands:
On Java Edition:

/summon minecraft:frog ~ ~ ~ {variant:swamp} - Temperate (orange)
/summon minecraft:frog ~ ~ ~ {variant:cold} - Cold (green)
/summon minecraft:frog ~ ~ ~ {variant:warm} - Warm (white)

On Bedrock Edition:

/summon minecraft:frog ~ ~ ~ ~ ~ spawn_temperate - Temperate (orange)
/summon minecraft:frog ~ ~ ~~ ~ spawn_cold - Cold (green)
/summon minecraft:frog ~ ~ ~ ~ ~ spawn_warm - Warm (white)