Mod
Tipped Swords
adds many new swords with various effects that resemble arrows with effects. A total of 228 new swords will be available in the game. Hit your opponent to put an effect on him.
All swords are available in the creativity inventory, but you can also use the workbench to create.
For example, below is a recipe for a sword with a desiccation effect for 5 seconds.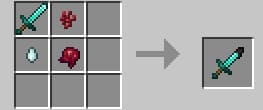 If you don't know how to brew potions in the game, you can use the image below.
Available swords