Mod
Beyond the Underground
adds new caves where you will meet a variety of blocks, structures, mobs, and be able to create new useful items. If the usual caves in
Minecraft
if you are bored, then this add-on can fix it.
Glowing caves
These caves are generated exclusively under Mushroom Islands. Here you can feel safe, because this is a peaceful cave in which there are no hostile mobs. The whole cave is covered with vegetation, which very quietly illuminates everything around it.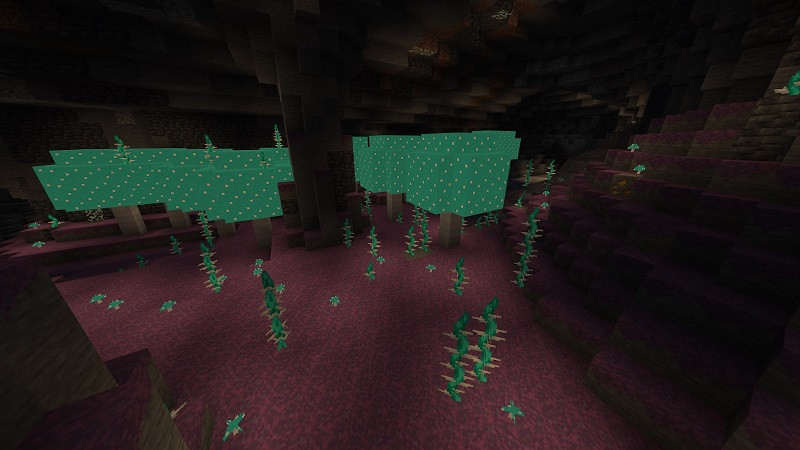 Vegetation
In this cave, giant mushrooms are generated;

Mushrooms of normal size are formed on the surface;

A vine grows right out of the ground;

All these plants emit a small amount of light!
Food
Glowing Stew from glowing mushrooms can be created from 1 bowl and 2 glowing mushrooms;

Fills 6 hunger points (3 pieces of meat);

Puts a Night Vision effect on you for 15 seconds.
Ores
Luminite is a blue gemstone that can be found in Glowing Caves;

Luminite ore is generated at Y levels from -64 to 12 (from 1 to 12 in old world generation);

When destroyed, 1-2 fragments of luminite fall out.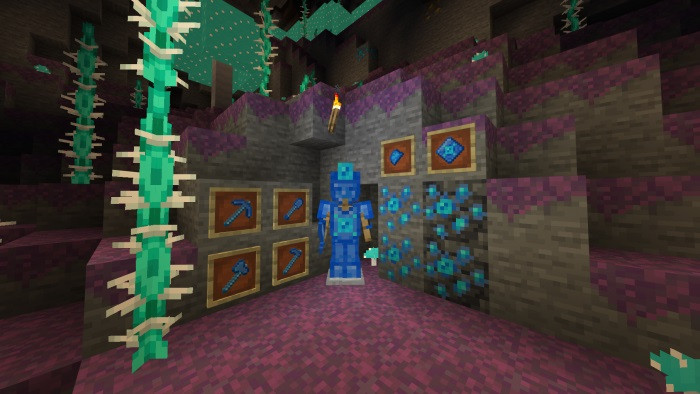 Combine 8 pieces of luminite and 1 diamond on the workbench to get 1 luminite

Luminite can be used to make equipment!

Equipment made of luminite can burn in fire, but is invulnerable to explosions.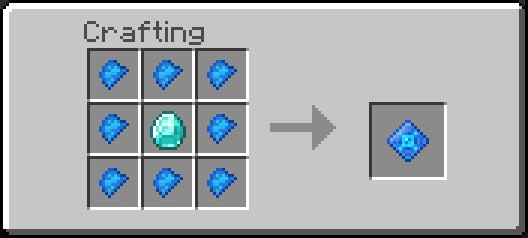 Here is a detailed picture proving that luminite is the next stage in the evolution of your armor: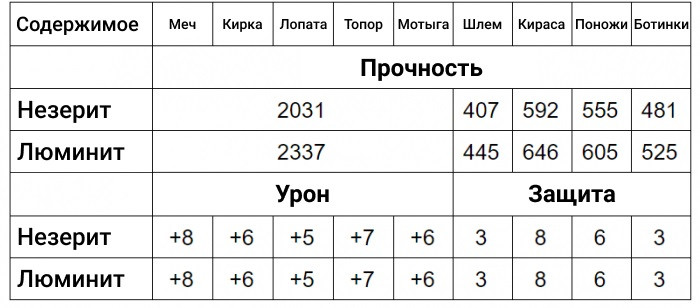 Mobs
Mushroom Elf appears in Glowing Caves;

They can be bred using Glowing Mushrooms;

They spawn in large groups of 4-8 pieces;

They have 8 health (4 hearts) and they die almost instantly from lava;

They run away from the player, but they can be lured with the help of glowing mushrooms;

When they are killed, 0-2 glowing mushrooms fall out.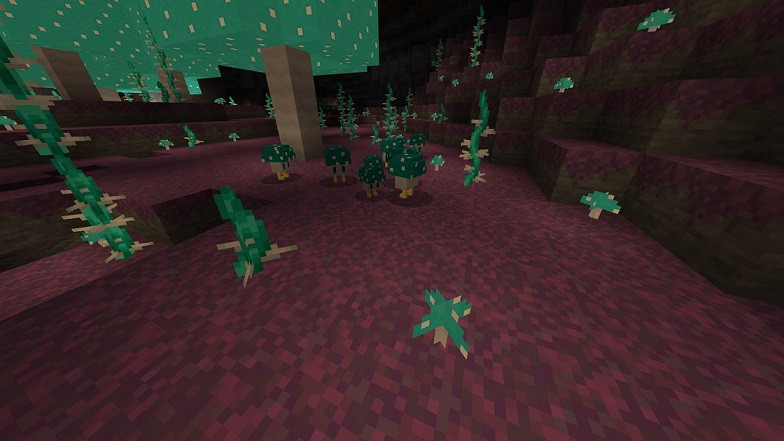 Slimy pit
These caves are generated exclusively under swamps;

This is a very dangerous cave with a thick green fog that limits the drawing distance.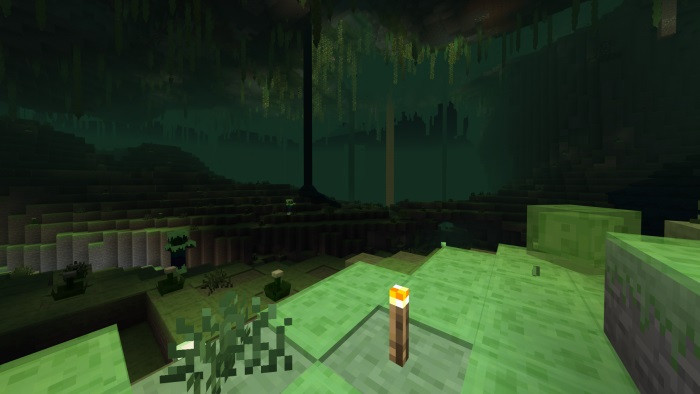 Vegetation
A layer of slimy stone replaces the stone, it will slow you down

A thick layer of mucus covers most of the surfaces

Slimy flowers and slimy sprouts grow here and there all over the cave

Carefully! Slime dripping from the ceiling!
Food
Slime soup can be created from 1 bowl and 2 balls of slime;

Makes up for 3 hunger points (1.5 pieces of meat);

Gives you "High Jump II" for 8 seconds and "Resistance II" for 5 seconds;

Has a 45% chance to impose on you "Hunger I" for 30 seconds and "Nausea II" for 20 seconds.
Slime zombies
Slime zombies spawn in a Slime Pit

They appear in large hordes from 4 to 7 pieces

They have 20 health (10 hearts), like ordinary zombies

They will throw hardened slime balls at enemies that deal 7 damage (3.5 hearts) without armor

When they die, rotten flesh and hardened balls of slime fall from them

Slugs from vanilla Minecraft spawn here much more often — in groups of 2 to 4 pieces.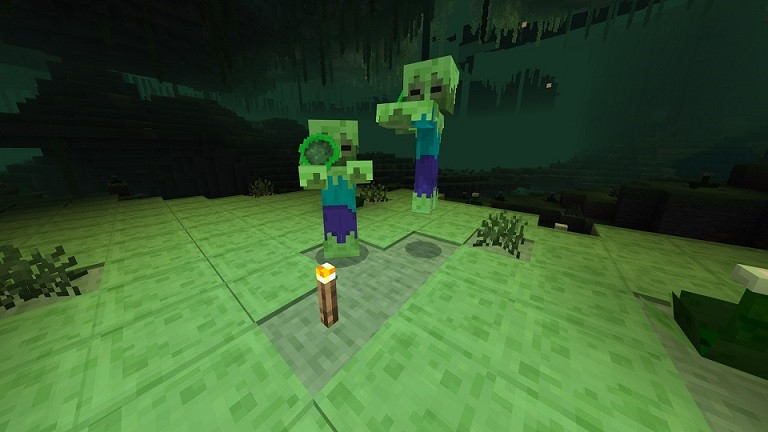 Limestone caves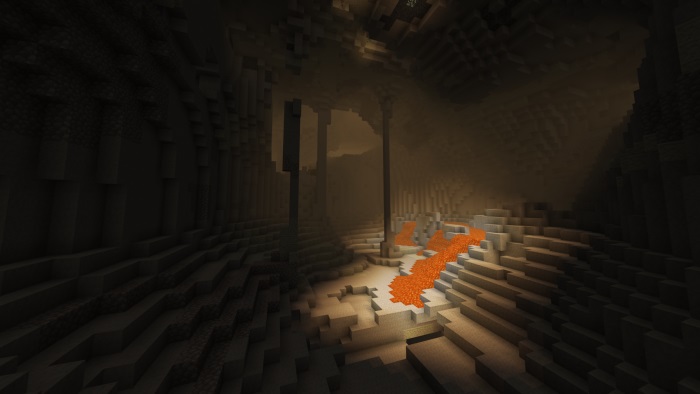 These caves are created exclusively in deserts. This is a very dusty cave with a thick yellowish-pale fog.
Blocks
All the stone in this cave has been replaced with Limestone, Paved Limestone and Sandstone;

Sometimes generates Quicksand;

Hanging from the ceiling here, Sandy Roots/
Mobs
Scorpions spawn in Limestone Caves;

They appear in packs of 2-4 pieces;

They have 16 health (i.e. 8 hearts);

They inflict 10 seconds of Poison on each attack;

Raw Scorpion meat falls out of them at death (or Fried Scorpion meat if they died in fire or lava);

Vanilla Cadavers also appear here, and quite often. Usually in groups of 2-4 mobs.
Food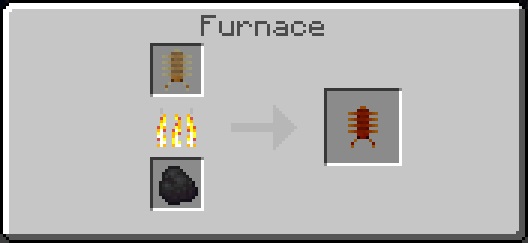 Raw Scorpion meat makes up for one point of hunger (or 0.5 hearts);

It will impose on you the effect of Poison II for 10 seconds, Hunger III for 10 seconds and Nausea III for 8 seconds;



Raw Scorpion meat can be fried in an oven or smokehouse to cook it. Then it will fill 5 points of the hunger scale (2.5 hearts).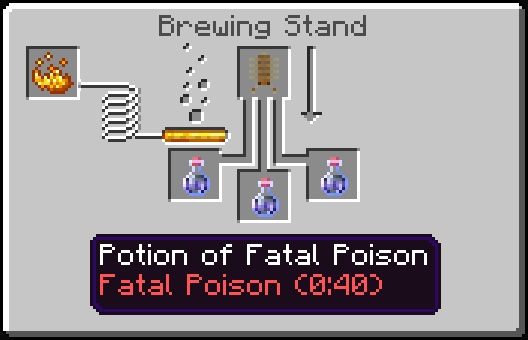 Raw Scorpion meat can be used to brew potions of Deadly Poison.
Limestone dungeons
There are 4 spawners, 2 with scorpions and 2 with cadavers;

In the middle is a chest with valuable loot.
Limestone dungeons are built from Limestone Bricks. You can create them out of limestone, and there are many other options!

Ice caves
Ice caves
are generated under cold biomes.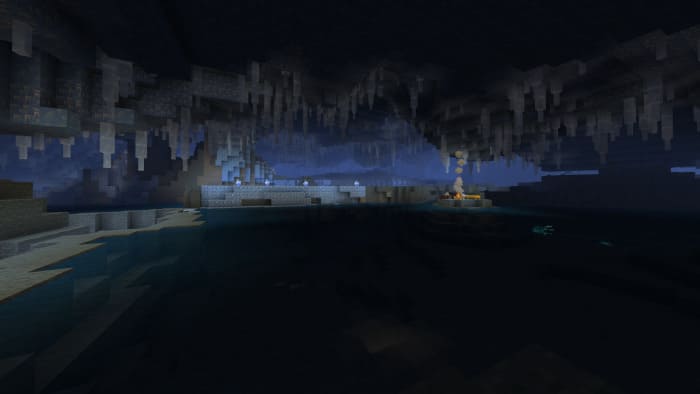 Ice blocks
In the ice caves you will find a variety of new blocks.
Ice crystals and frozen rocks appear on the surface of caves;

Crystal ice and blue ice make up the ceiling of the cave;

You can find pebbles on the floor;

Icicles hang down from above.
Penguins
Penguins appear in ice caves and on the surface of cold biomes;

They appear in groups of 3 to 5 on the surface and 2 to 4 underground;

Penguins have 10 health units (5 hearts);

Vagrants appear here more often, in groups of 2 to 4.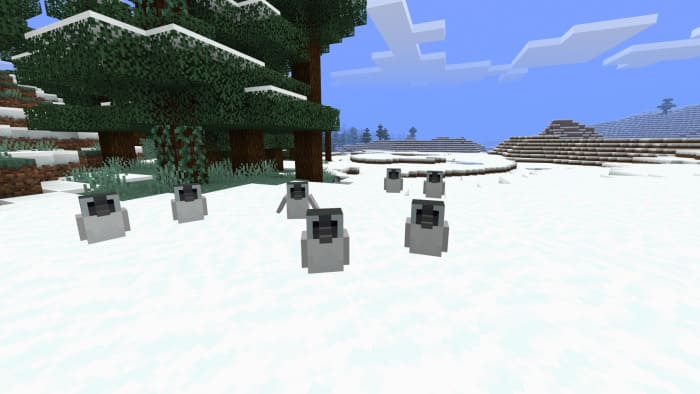 Frozen potion
Ice crystals can be used to create a Cold Potion, which gives slowness and mountain fatigue.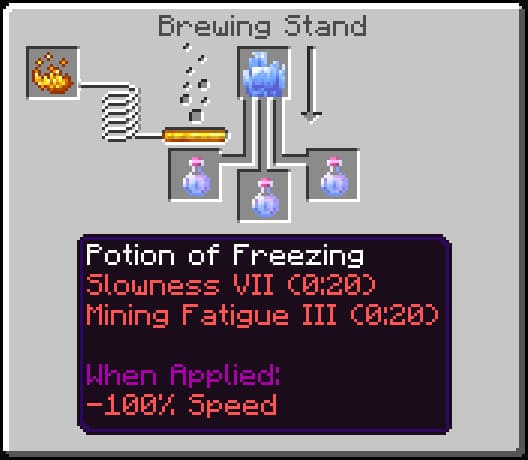 Lost Explorer's Camp
Camps of lost explorers appear in ice caves between Y=-30 and 20.

Due to an error in the game, explorers will not appear in structures, interact with a suitcase with an emerald in your hand to summon it.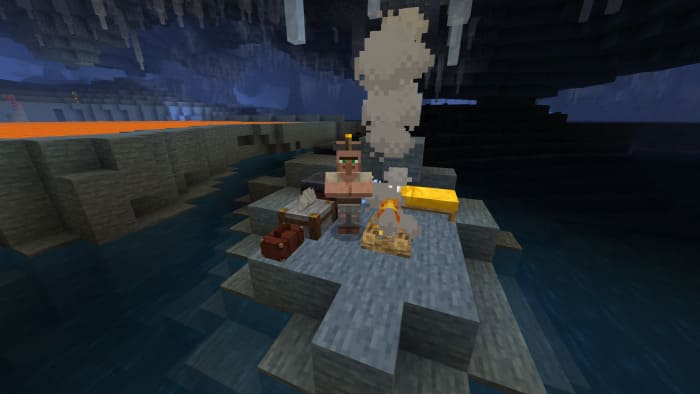 Ice blocks
Packed ice bricks can be created using packed ice.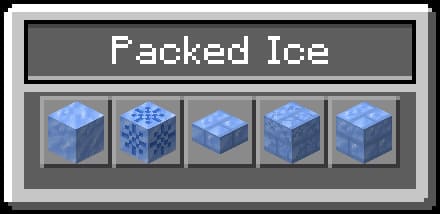 Settings
You can select a subpack by applying a behavior pack to your world, and then clicking the gear next to the deactivate button.

You must have version 1.17.10 or higher. Betas 1.17.30.20, 21 and 22 are not supported.

When upgrading to a newer version, set the subpack to the correct parameters.

Incorrect subpack settings may cause errors
In the settings of the world, do not forget to enable the experiment functions.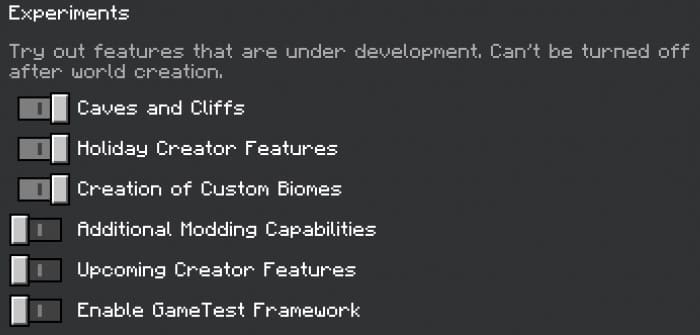 Last updated: August 29, 2021What's new?
Added Ice caves appearing under cold caves

Added icicles and ice crystals

Lost seekers dwell in these caves

Penguins added