Create your own car for building and laying roads in
Minecraft PE
! Rather, jump into it, refuel and start building roads and tunnels!
How to create an asphalt paver
The crafting recipe below will give you a summoning egg, just place it anywhere: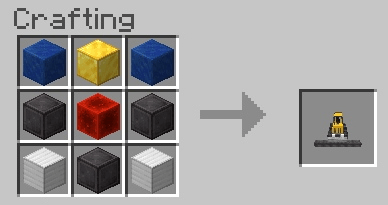 Quite an expensive crafting recipe (dark blocks - Netherite), but it's worth it!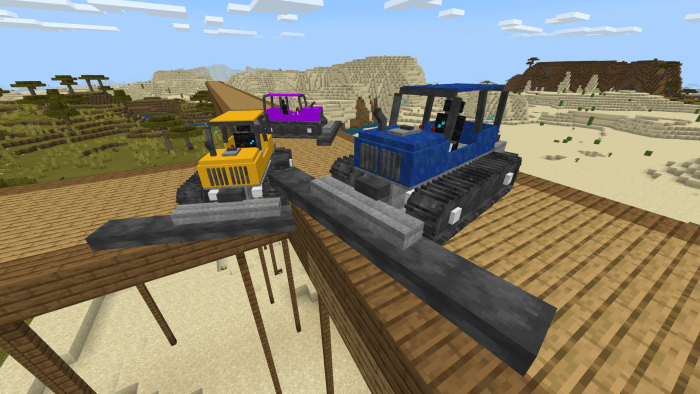 How to use
This car can build different roads, depending on which block you fill it with:
A car made of a golden block will lay a road made of wood;

Lapis Lazuli Machine Builds dark gray and white concrete roads;

A machine made of iron builds an orange and white concrete road.
All of them are equipped with marine flashlights for illumination.
After you have decided what kind of road surface you need:
Hold in your hand any block you want to use and interact with the Paver (PC - right-click on the machine, mobile phones - long press on the machine).

Jump in!

Ride it wherever you would like to pave the road, it automatically lowers the supports (if necessary) to a height of about 40 blocks. Marine lanterns will be placed under the road at certain intervals.

You will run out of construction fuel in 75 seconds! You will get a warning on the screen, construction will stop and the speed of the car will drop sharply. After six seconds, the normal speed will be applied.

Ready! If the road is not fully built, go back to step #1.
With this machine you can also build tunnels. Everything that will hinder the car will first be filled with air, and then with the road surface. Note that any caves less than 40 blocks below the machine may have supports running through them.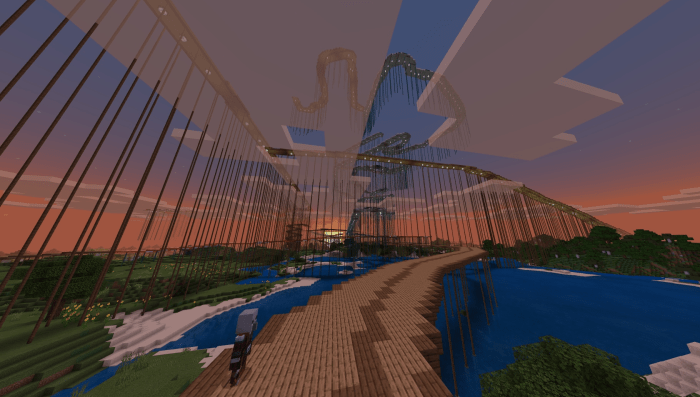 Try to make your world NOT look like the one in the screenshot above!
Lawn mower
Crafting recipe: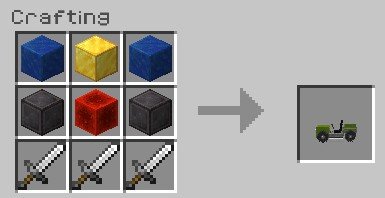 The lawn mower has 3 modes of operation:
Turns stone, gravel, concrete, sand into grass. Iron blocks are used for refueling;

Lays the lawn in the pits, to do this, fill the lawn mower with blocks of grass:




Bonus mode! Lawn mower mode, cuts all the grass and flowers in its path.

Railway builder
Crafting recipe: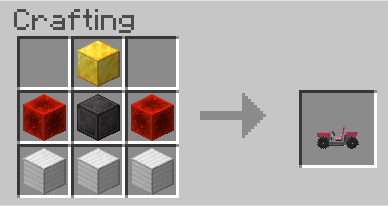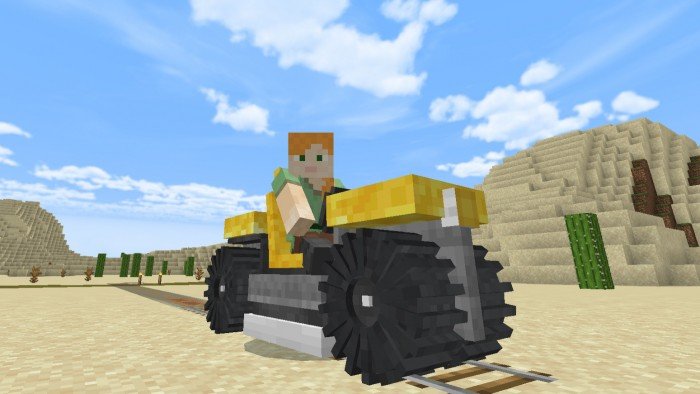 How to use:
Fill it with iron blocks, which will last for several minutes of railway construction;

Get behind the wheel;

Start the construction of the railway, but remember that the car should be directed strictly to the south, north, west or east;

It will install a powered rail (or two) every approximately 30 blocks;

When you run out of fuel, a notification will appear on the screen.
Last update:
v4 (April 2, 2021)
What's new?
2 new cars have been added - a Lawn mower and a Railway Builder.