Are you a fan of the game
Terraria
? Then we present to your attention a new mod of the same name, which will add a huge amount of content from Terraria to
MCPE
! New biomes, ores, accessories, weapons, picks, axes, armor, monsters, NPCs, bosses and much more — all this will appear in the game together with this addition!
Be sure to include all the experimental gameplay features in editing the world so that the mod works correctly.
Very soon we will update this publication and add a detailed description of crafting, bosses, and so on.
---
Swords
Bone sword, zombie hand, cactus sword, copper sword, tin sword, iron sword, lead sword, silver sword, tungsten sword, gold sword, platinum sword, butcher chainsaw, blue laser sword, distorted sword and flaming two-handed.
Bows
They are not working at the moment.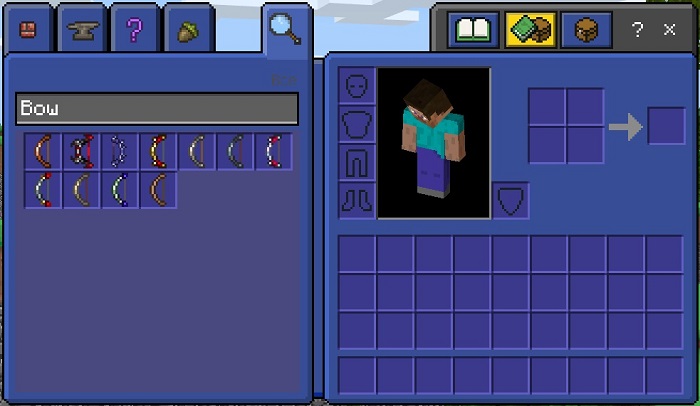 Axes
Copper axe, tin axe, iron axe, lead axe, silver axe, tungsten axe, gold axe, platinum axe, crimson axe, distorted axe, meteor hammer and cast hammer.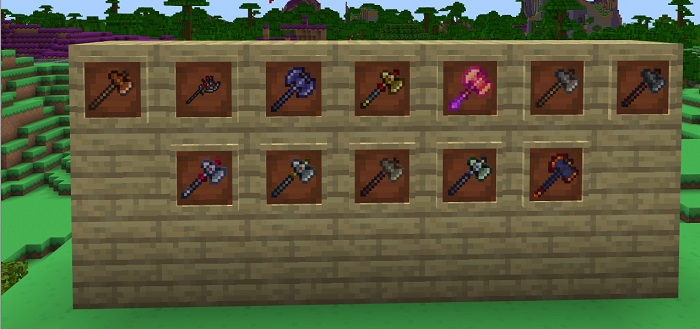 Armor
Copper, tin, iron, lead, silver, tungsten, gold, platinum, crimson, distorted, meteoric and cast.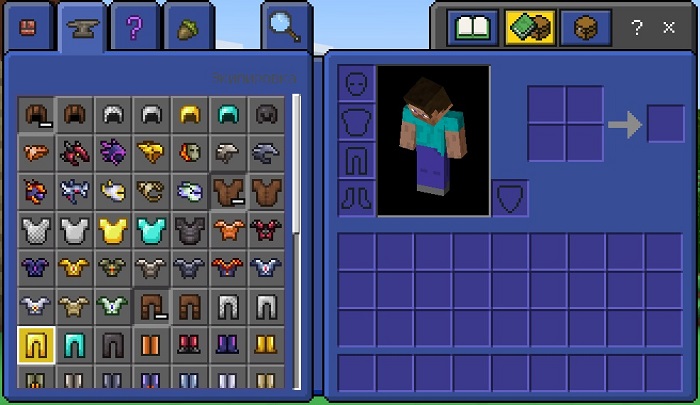 Boomerangs
Wooden boomerang, enchanted boomerang and plamerang.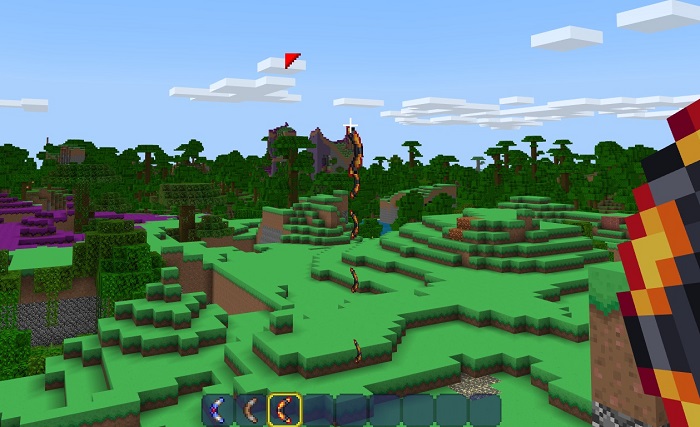 Propellant
Poisoned knives, throwing knives and shurikens.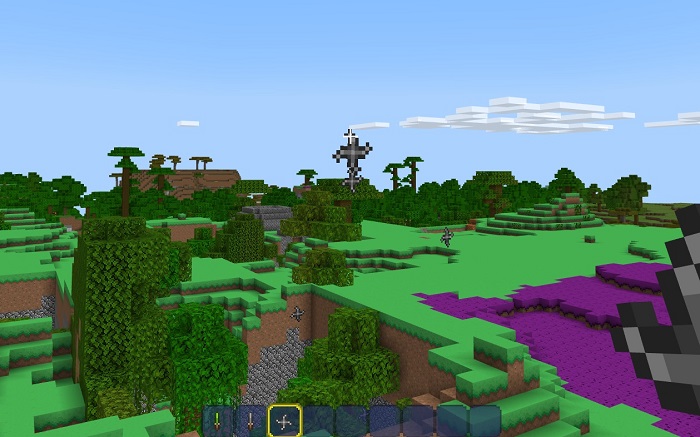 Guns
Slug gun, space gun, sawn-off shotgun, flintlock gun and mini shark.
Explosive
Grenades
Explosion time: 3.

Power: 2.

Destroys blocks: no.
Bombs
Explosion time: 1.

Power: 3.

Destroys blocks: yes.
Dynamite
Explosion time: 2.

Power: 6.

Destroys blocks: yes.
Picks
Bone pickaxe, cactus pickaxe, copper pickaxe, tin pickaxe, iron pickaxe, lead pickaxe, silver pickaxe, tungsten pickaxe, gold pickaxe, platinum pickaxe, deadly pickaxe, distorted pickaxe and cast pickaxe.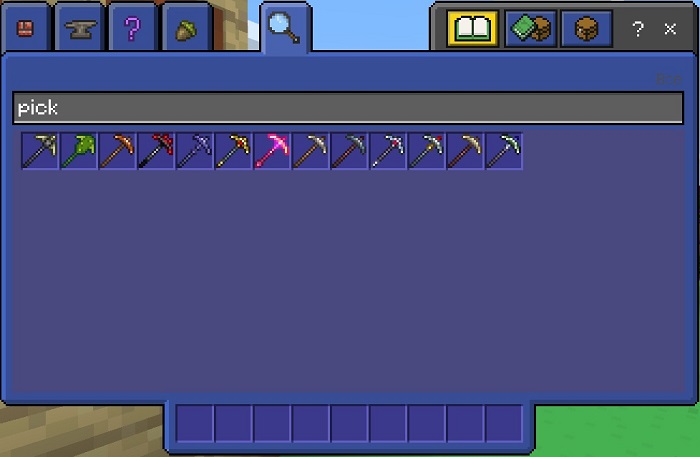 Accessories
Lava amulet, egglet, puffer fish, depth gauge, Hermes boots, regeneration bracelet and magic mirror.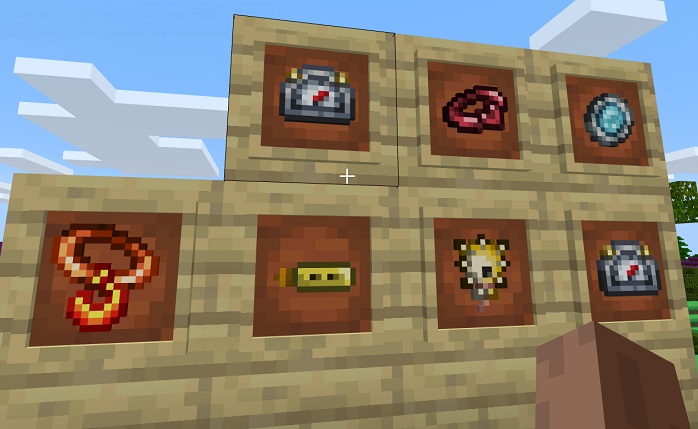 Biomes and structures
The mod replaces all the vanilla biomes of Minecraft with biomes from Terraria.
Crimson Forest
.
Distortion
.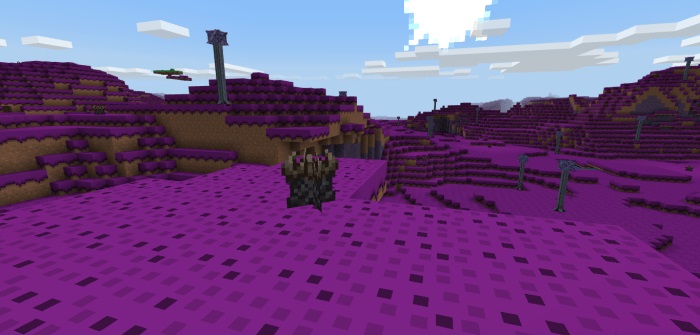 Random chest
.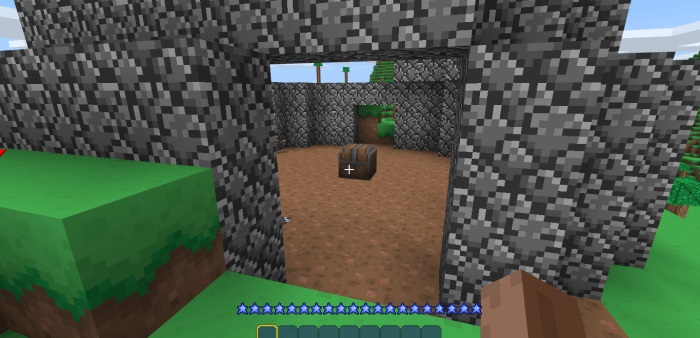 Meteorite crater
.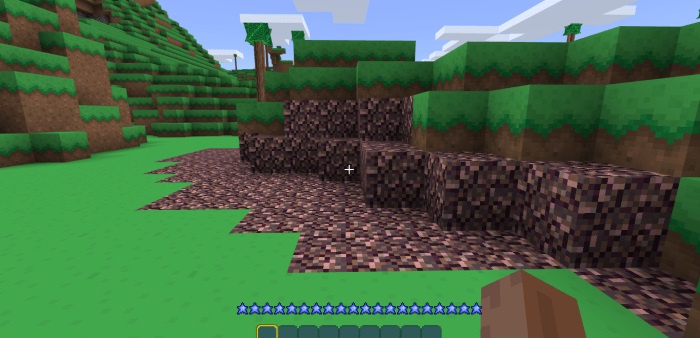 Danj
.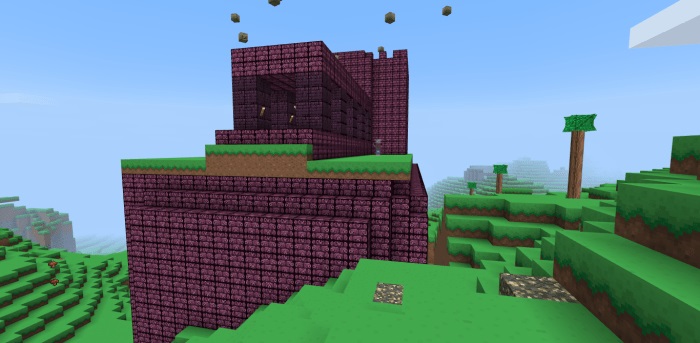 Mobs
Zombies, all kinds of slugs, demonic eye, hypocrites, bloody crawlers, creamers, skeletons, cave bats, dead miners, soul eater, devourer and huge worms.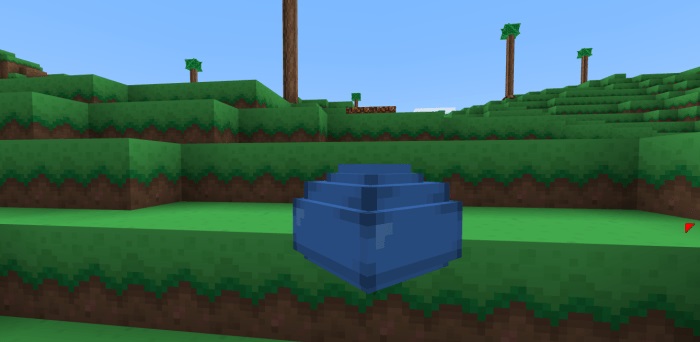 Bosses
The eye of Cthulhu
.
It flies and attacks from time to time, and also summons Cthulhu's minions. In the second phase, he will attack more often, dealing more damage and with greater speed.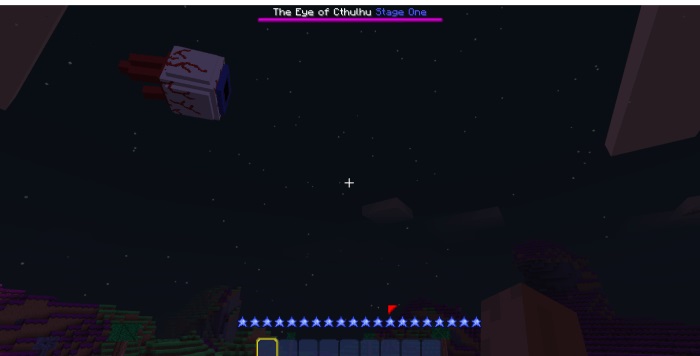 The brain of Cthulhu
.
In the first phase, he will fly around the playing field and create minions. In the second stage, he will teleport.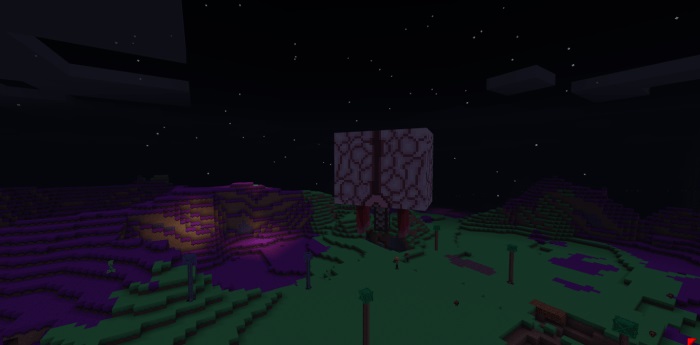 Royal slug
.
Able to jump and create slugs.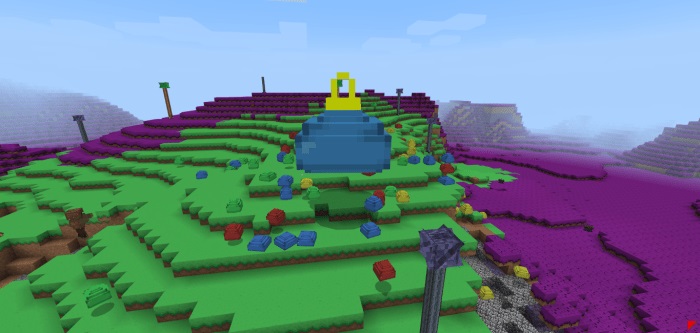 Skeletron
.
You can summon by going to the dungeon, which is generated in the biomes of the plains.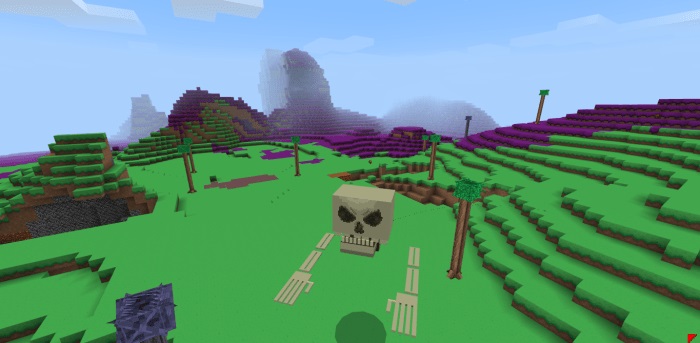 The Devourer of worlds
.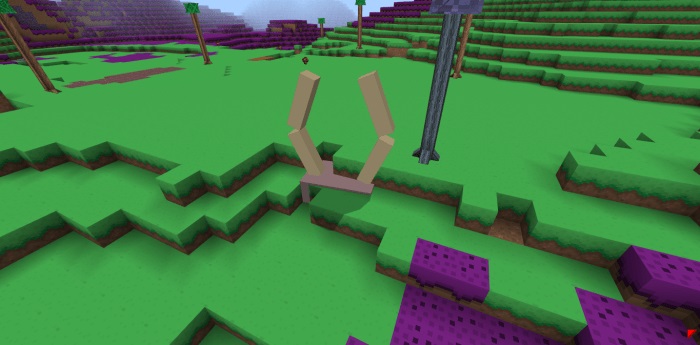 Ores
Among the new ores are: copper ore, tin ore, lead ore, iron ore, silver ore, tungsten ore, gold ore, platinum ore, crimtan ore, hell ore, ruby ore and sapphire ore.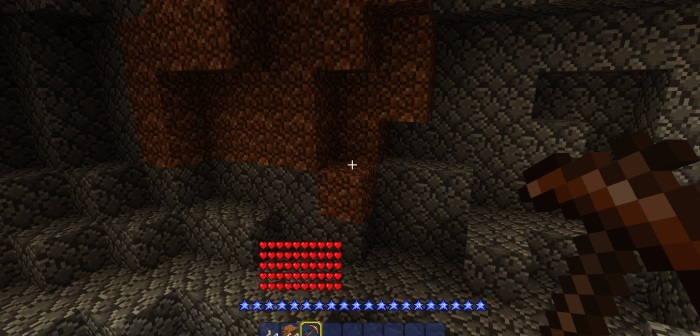 Coins
Coins will drop from all mobs in the mod, you can collect these coins and use them with NPCs to get items. The first level of the coin is a copper coin, then silver coins, then a gold coin and finally a platinum coin.

NPC
Gun seller
Sells one musket ball for 7 copper coins and one flintlock pistol for 5 gold coins.

Sells one torch for 50 copper coins and a healing potion for 3 silver coins.

Sells one mini shark for 35 gold coins.
Merchant
Sells 1 copper pickaxe for 5 silver coins, 1 copper sword for 4 silver coins.

Sells one torch for 50 copper coins and one healing potion for 3 silver coins.
Nurse
sells 1 healing potion for 5 copper coins.
The bomber
sells grenades for 64 copper coins, bombs for 3 silver coins and sells one dynamite for 20 silver coins.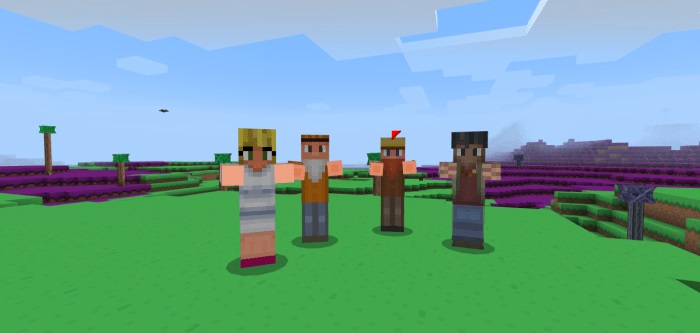 Crystal Hearts
Crystal hearts are at levels 0-32. When they are broken, crystals of life fall out. Take such a crystal in your hand and it will give you +20 health. To get even more health, make a large crystal in the workbench. At the same time, additional health is preserved even after death.
Mana
Mana is displayed at the top of the screen. The use of items whose names indicate the use of mana will lead to its consumption. Mana is restored automatically.
Teams:
/function terraria_swords

/function terraria_pickaxes

/function terraria_accessories

/function terraria_explosives

/function terraria_ores

/function terraria_bars

/function terraria_mobs
Last update:
v2.5.4 (August 6, 2021)
What's new?
The wall of flesh now appears 30 blocks away from the player, not in the same block where the player is

The appearance of mobs now turns on when the boss disappears, not just when he dies

NPCs no longer die when bosses appear
Installing the Terraria Bedrock mod (.mcaddon):
Download the mod file marked .mcaddon from the link below.

Just open the files and the game will install everything you need by itself.

Launch Minecraft and go to edit the world.

Select Resource packs.

Find the texture pack and activate it.

Select Behavior packs.

Find the add-on and activate it.

The mod is installed, have a nice game!