The Birds mod
for Minecraft Pocket Edition adds 14 birds to the game, as well as new items, some of which can be crafted.
To spawn a certain bird, you will need a special item, which at the moment can be obtained by special programs or taken in the inventory of the creative.
There is even a mutant robot chicken, which is incredibly huge.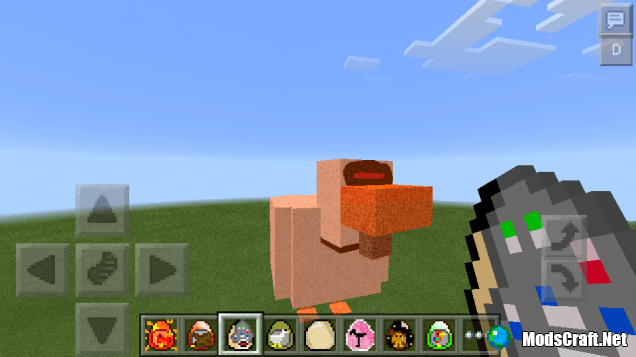 ID items and crafting:
Big bird meat (id: 506) — cannot be obtained by crafting and dropping from mobs

Magic Feather (id: 507) — Drops from Robin

Fire Feather (id: 508) — Drops from Phoenix

Large cooked poultry meat (id: 509) — cannot be obtained by crafting and dropping from mobs

Fire Sword (id: 510) — 1 stick + 2 fire feathers

Magic Helmet (id: 502) — 5 magic feathers

Magic Breastplate (id: 503) — 8 magic feathers

Magic Greaves (id: 504) — 7 magic feathers

Magic Boots (id: 505) — 4 magic feathers

Spawn of the robin (id: 488) — cannot be obtained by crafting and dropping from mobs

Penguin spawn (id: 489) — cannot be obtained by crafting and dropping from mobs

Peacock spawn (id: 490) — cannot be obtained by crafting and dropping from mobs

Spawn crows (id: 491) — cannot be obtained by crafting and dropping from mobs

Seagull spawn (id: 492) — cannot be obtained by crafting and dropping from mobs

Owl spawn (id: 493) — cannot be obtained by crafting and dropping from mobs

Toucan spawn (id: 494) — cannot be obtained by crafting and dropping from mobs

Parrot spawn (id: 495) — cannot be obtained by crafting and dropping from mobs

Phoenix Spawn (id: 496) — cannot be obtained by crafting and dropping from mobs

Eagle Spawn (id: 497) — cannot be obtained by crafting and dropping from mobs

Spawn of the chicken robot (id: 498) — cannot be obtained by crafting and dropping from mobs

Duck spawn (id: 499) — cannot be obtained by crafting and dropping from mobs

Ostrich spawn (id: 500) — cannot be obtained by crafting and dropping from mobs

Flamingo spawn (id: 501) — cannot be obtained by crafting and dropping from mobs