Mod
DayZ
will add some changes to
Minecraft Pocket Edition
, which will add to
MCPE
some elements from the popular zombie survival game
DayZ
.
This is a great
mod
for
Minecraft PE
and most likely it will appeal to those who like the theme of a post-apocalyptic world with zombies.
Mobs
Some mobs
MCPE
have been changed to zombies and other creatures that exist in the game DayZ on PC.
Infected (Zombie, Zombie pigmen, Husk)
spawns the world day and night. The infected are quite strong and also move quickly, which makes them even more dangerous.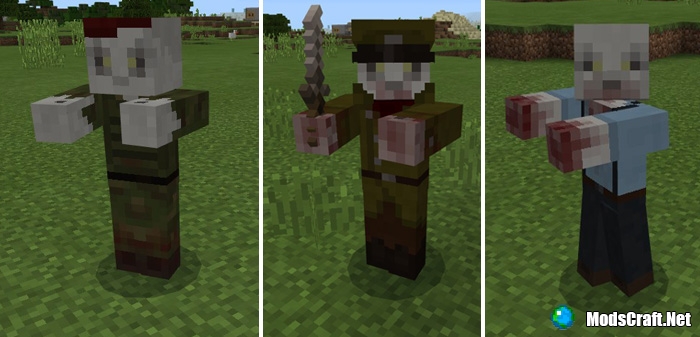 Survivors (villagers)
they look like ordinary people and can be found in villages. Various items can be purchased from the survivors. All kinds of zombies will automatically try to infect survivors. If the survivor is infected, he will turn into a zombie.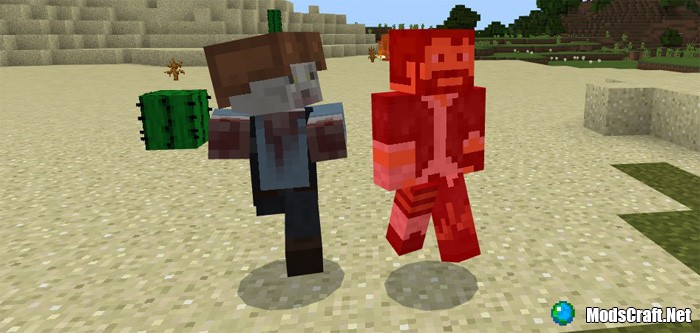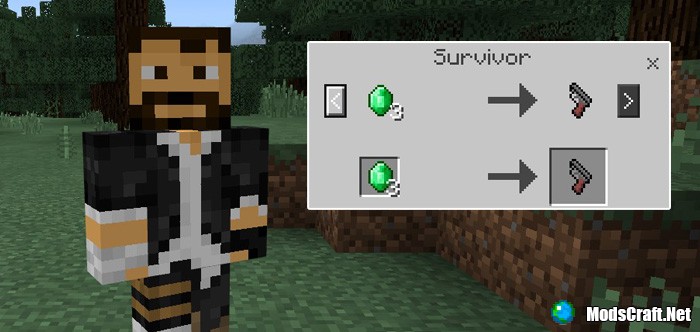 Bandits (Stray, Wither skeleton and Skeleton )
these are hostile mobs that will try to kill players. Most of them are equipped with an assault rifle, but some of them have melee weapons.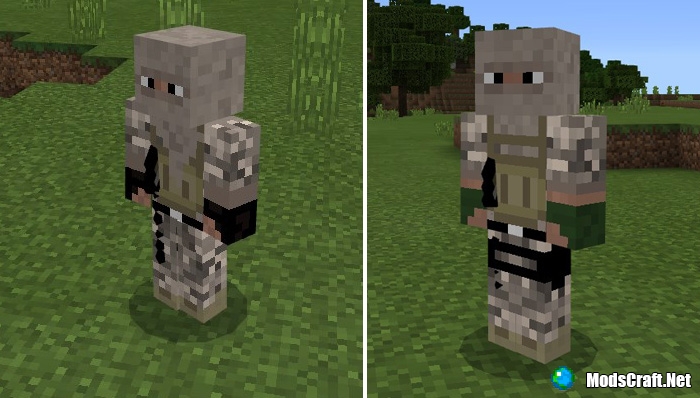 Stray dogs (wolves)
these are lonely dogs who lost their owners many years ago. They are neutral to the players. Use dog food to tame the dog.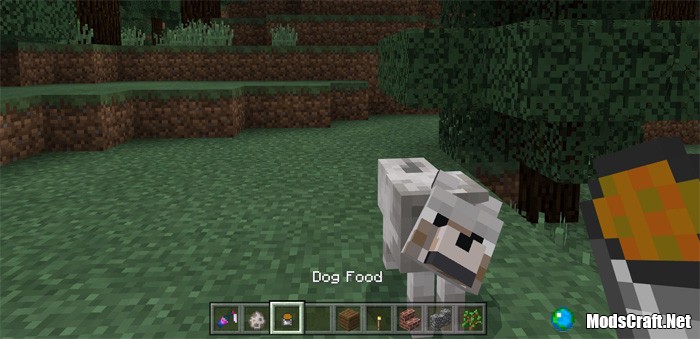 Weapons and armor
This mod changes a bunch of vanilla items in
Minecraft PE
. Now the weapons and armor in the game will look like in a post-apocalyptic world.
Items can be crafted or obtained from a drop by killing mobs from this mod.
Throwing knife (snowball): it can be used to discard enemies and deal damage to them.

Grenade (egg): has a high explosive power, which causes a lot of damage.

Makarov Pistol (Pearl of the Edge): deals quite high damage.

AK-47 (fishing rod): Difficult to aim, but does quite a lot of damage.

M4A1 (bow): has a good sight, but not as powerful as the AK-47. You also need M4A1 ammo (arrows) to use it.

Molotov Cocktail (potion of experience): sets fire to the territory.

Canned food (stewed mushrooms): drop from some mobs, can be purchased from survivors.

Green camouflage (iron armor)

Leather Armor (Diamond armor)

Plastic armor (gold armor)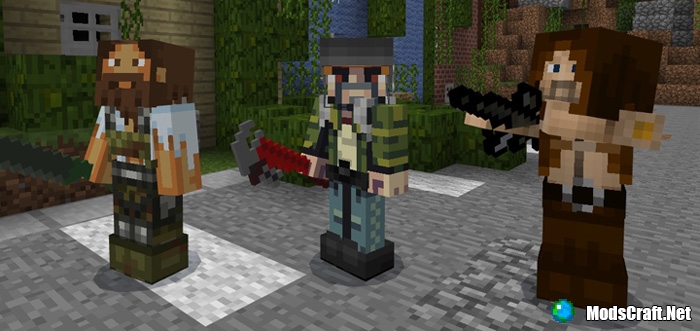 Installing the DayZ mod (.mcpack):
Download the mod files marked .mcpack from the link below.

Just open the files (via ES Explorer on Android) and the game will install all the necessary files by itself.

Launch Minecraft Pocket Edition and go to edit the world.

Select Resource Sets.

Find the texture file and click on it to activate.

Select Behavior packs.

Find the add-on file and click on it to activate.

The mod is installed, have a nice game!