Has the passage and survival in the world of
Minecraft PE
become boring for you? Have you already visited all corners and were able to craft all the rare items? How about collecting the Dragon Sword? Or the Desiccator's Sword? Or any other sword that you've never seen in Minecraft? Mod
More Swords
will allow you to experience the fun of the game again!
The addon adds 441 unique swords!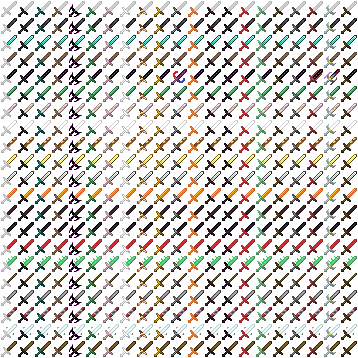 Swords can be created from any sequences of the following items:

Earth

Stick

Boards made of oak wood

Cobblestone

Mucus

Bone

Glass

Coal

Gold Ingot

Iron Ingot

Red Stone

Dynamite

The cracked brick of the Underworld

Glowing Stone

Obsidian

A clot of magma

Diamond

End Stone

Emerald

Dragon Egg

Nether Star
For example, you can make a sword with a gold handle and a diamond blade: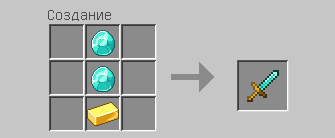 Or swap items and get a golden sword with a diamond handle: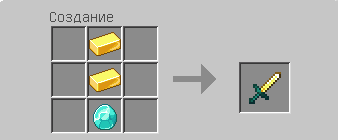 When creating a sword, you can see its characteristics (damage and durability). For example, a Charcoal sword:

Some swords have special abilities, and using some materials in the creation will activate special effects!
Sword Type Abilities:
Magma (when crafting with a clot of magma) - the effect Fire resistance is applied ;

Slime (when crafting using Slime) - the effect Bounce is applied;

Obsidian (when crafting swords with Obsidian) - gives immunity to discarding ;

Glowing Stone (when using a Glowing stone in crafting) - the effect Night Vision is applied;

Iron (using Iron ingots) - the effect of Magnetism is applied : sit down near an object on the ground and it will be attracted to you;

Dragon (using Dragon Egg) - activates the effect Regeneration.
Special Swords:
Sword of the Gods activates 3 special effects (Speed, Acceleration and Regeneration):




TNT sword. While holding this sword, right-click (if on a mobile device, press and hold) to detonate the sword. This will give you a quick resistance to make sure you don't take damage, but it's a one-time use since the sword will be blown up. Make sure that you use this ability in the right place, otherwise you can fall from a height and take damage from the explosion.
- Note: If you create this sword with a dragon blade (2 dragon eggs, 1 tnt), the ability will be much stronger. Creates multiple tnt and explodes instantly, creating a scattered bomb effect. Again, one-time.:




Dragon Sword, this sword will allow you to collect items from the ground from a long distance, just duck. A useful effect for collecting more drops from a pile of mobs:

Installing the More Swords mod (.mcaddon):
Download the mod file marked .mcaddon from the link below.

Just open the file (via ES Explorer on Android) and the game will install everything you need by itself.

Launch Minecraft and go to edit the world.

Select Resource packs.

Find the texture pack and activate it.

Select Behavior packs.

Find the add-on and activate it.

The mod is installed, have a nice game!