Mod
RC Car
will add to
Minecraft Pocket Edition
two radio-controlled cars, which will allow you to arrange races on these cars together with your friends! The mod also modifies some sounds in
Minecraft PE
to add more realism.
How does it work?
Radio-controlled cars are sold by residents in villages. At the moment there are two cars available, each of them needs a special joystick.
You can also use this mod to play with friends in multiplayer and arrange races!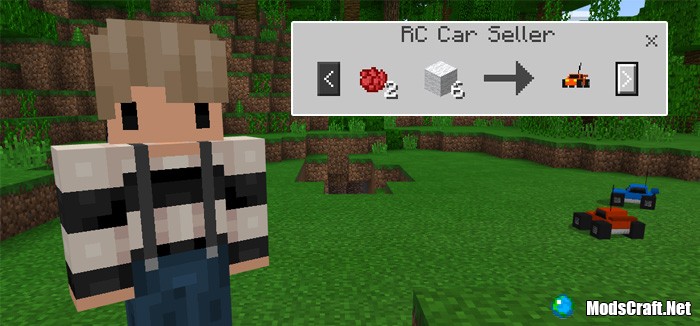 Before using the car, you will need to charge it. To do this, you need to get a battery (replaces gold nuggets).
Android/IOS: hold the battery in your hand and press Charge with a long press on the typewriter.

Windows 10: Hold the battery in your hand and press the right mouse button to charge the machine.
iOS/Android: Hold the battery in your hand, long press on the RC car and press for free
Windows 10 OS: Hold the battery and right-click on the RC car to charge it
During the charging process you will see some interesting particles and hear some sounds. It only takes a few seconds to fully charge.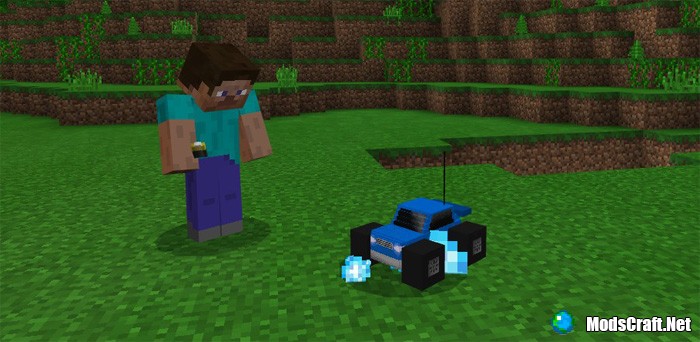 Now you can control the machine using a specific controller.
Blue controller (egg) – blue radio-controlled machine

Red controller (snowball) – red radio-controlled car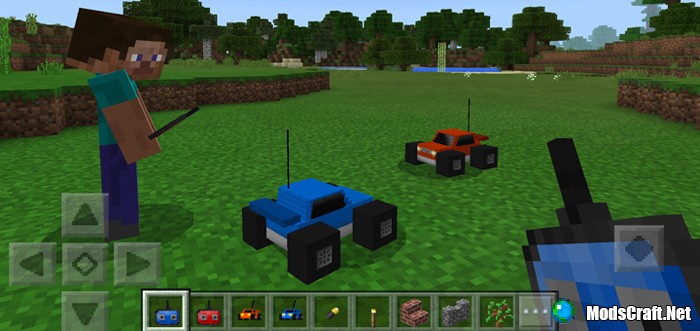 Throw the controller like a snowball or an egg to control the machine. It has a limited radius, so don't throw it too far.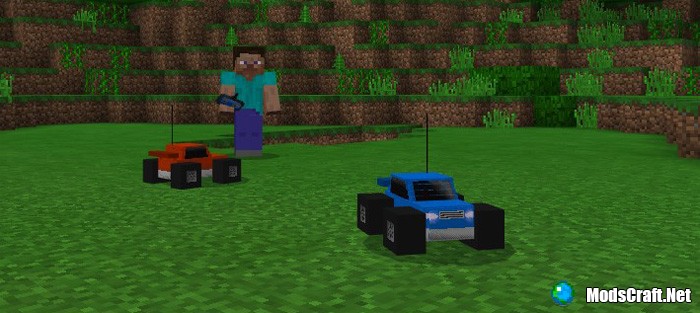 You can remove the car by hitting it several times.
Mod Features
Blue radio-controlled car (skeleton desiccant)

Red radio-controlled car (tramp)

Seller of radio-controlled cars (resident)

Blue Machine Spawn Egg (Skeleton Desiccant spawn egg)

Blue controller (egg)

Red Machine Spawn Egg (Vagrant spawn egg)

Red Controller (Snowball)

Battery (Golden nugget)

Custom sounds for car engine, residents and more

Cars can be renamed using the tag

The battery lasts for 5 minutes, and then you need to charge it

You can purchase radio-controlled cars, controllers and batteries from residents
Installing the RC Car mod (.mcaddon):
Download the mod file marked .mcaddon from the link below.

Just open the file (via ES Explorer on Android) and the game will install everything you need by itself.

Launch Minecraft Pocket Edition and go to edit the world.

Select Resource sets.

Find the texture file and click on it to activate.

Select Parameter sets.

Find the add-on file and click on it to activate.

The mod is installed, have a nice game!