The Illusioner appeared back in
Minecraft: Java Edition 1.12
, but it has not yet been implemented, and they are still not in
Minecraft PE
. But recently this mob has returned again, already in the game
Minecraft Dungeons
together with the
Creeping Winter DLC
, in which it was redesigned!
Activate experimental features in editing the world for the mod to work properly.

Together with this
mod
, the Illusion will appear in
MCPE
. It belongs to the type of Illagers and appears in small camps in the biome of the ice plains. In addition, he has a lot of health, which makes him a mini-boss.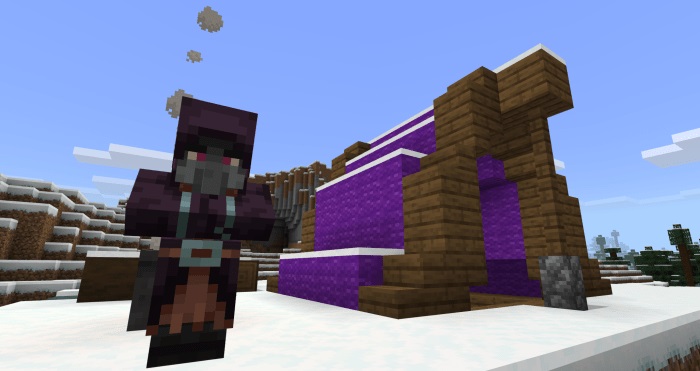 Attack
The Illusioner begins the attack by becoming invisible and reappears with several clones. Illusions and clones are armed with crossbows. Clones shoot ordinary arrows, and ordinary Illusions shoot fireworks.
Health:
Illusioner: 188.

Clone of the Illusioner: 1.
Spawn
The Illusioner will appear in tents, which can only be found in the biome of the ice plains and the biomes of the taiga. You will find a tent, a bonfire, and a cauldron with an invisibility potion inside, which is enough for 3 bottles!
Drop
A crossbow with a Triple Shot enchant and a quick Reload III drops from the Illusioner. He also drops potions of Illusion, which impose invisibility on the player and teleport, fireworks and up to six emeralds.

The Illusioner attacks the Iron Golem with his clones.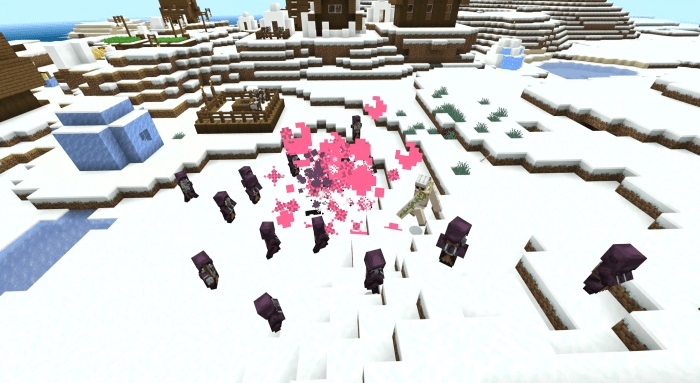 Installing the Illusioner mod (.mcaddon):
Download the mod file marked .mcaddon from the link below.

Just open the files and the game will install everything you need by itself.

Launch Minecraft and go to edit the world.

Select Resource packs.

Find the texture pack and activate it.

Select Behavior packs.

Find the add-on and activate it.

The mod is installed, have a nice game!