Have you played the new game
Minecraft Earth
? If so, you've probably seen new unique animals for this game. But what if you want to see them in
Minecraft Bedrock (PE)
? Especially for our visitors, we have collected this addon and added all mobs to it!
All mobs have automatic appearance in biomes:
The Kudakhtogrib appears on mushroom islands.

The horned sheep appears near the mountains and in the mountains.

A woolly cow appears in any biome.

A giant rabbit appears in any taiga biome.

The cow flower appears in flower biomes.

The merry llama appears in the savannah and on mountain peaks.
But if you can't find mobs, you can use the Creative Mode inventory and get creature creation eggs.
The cheerful llama is similar to the usual one, but differs in its Christmas cape and big horns!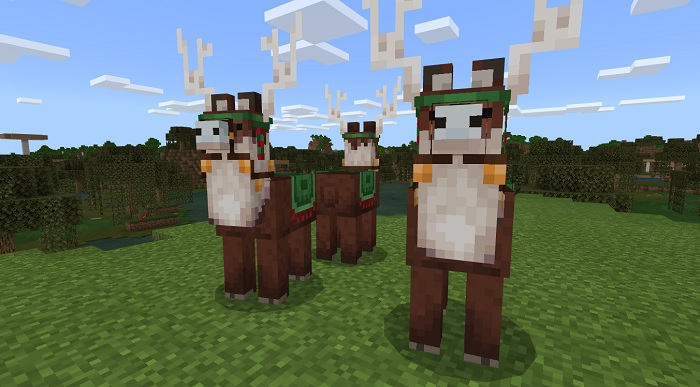 Try to ride her several times for taming! After that, you will be able to place a chest on it and transport things, but remember that this llama cannot be controlled (use a leash)!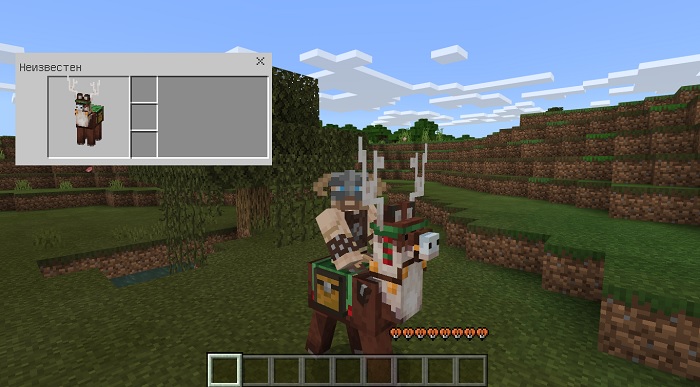 The woolly cow appears in any biomes. Use scissors to get the brown wool off her.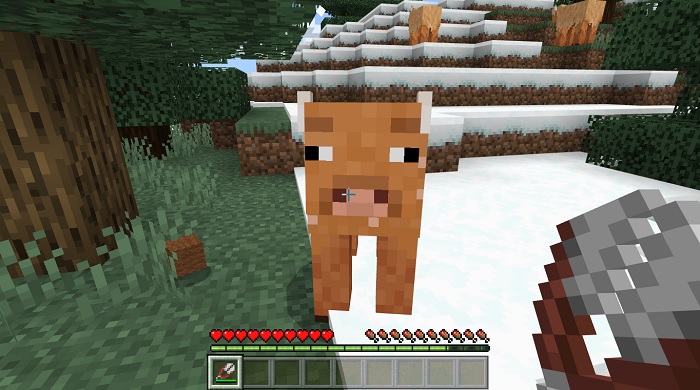 Cowflower can be found in flower biomes. You can't interact with this animal (yet), but such a cow still looks very cute!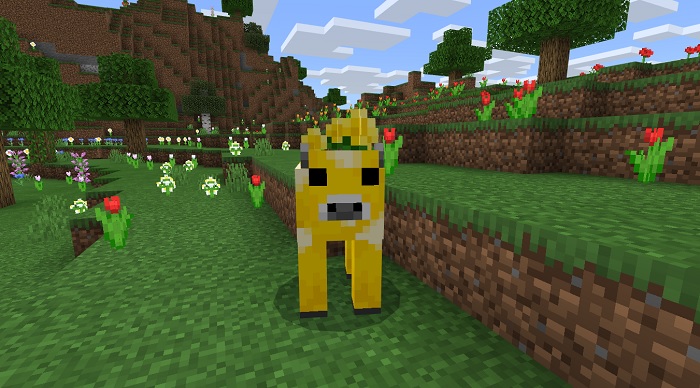 If an ordinary pig ends up in the swamp biome and gets into the water (or in the rain), it will turn into a dirty pig.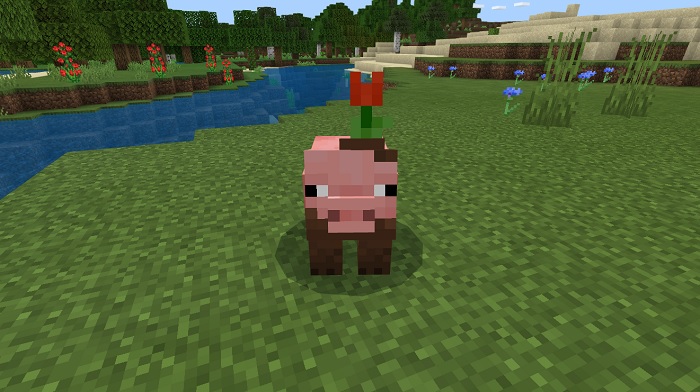 Use the saddle to saddle her, but don't forget the carrot on the stick to control her movement.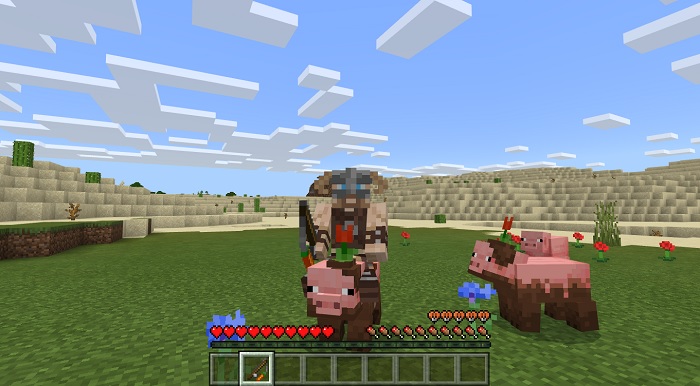 Giant rabbits are larger than normal and no different.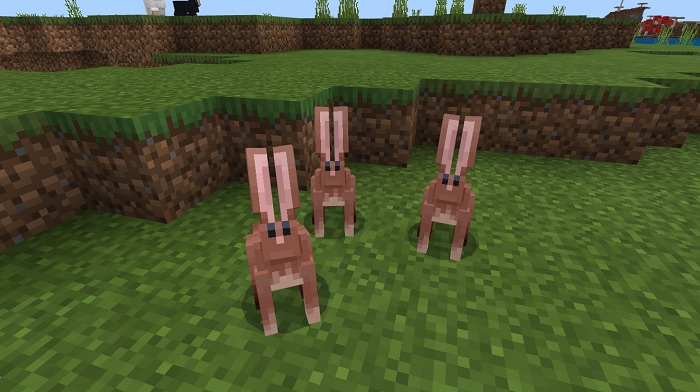 Kudakhtogrib is similar to an ordinary chicken, but differs in the presence of red fly agarics on its body.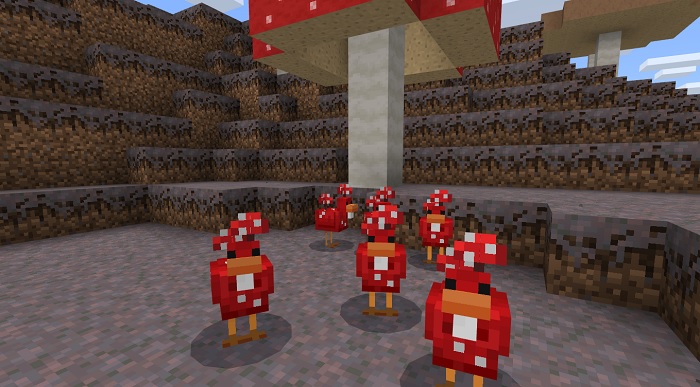 This year there should be an update of the mountains, which will bring mountain goats into the game, but mountain sheep are not so bad either!
They can be of different colors and any dye can be used on them.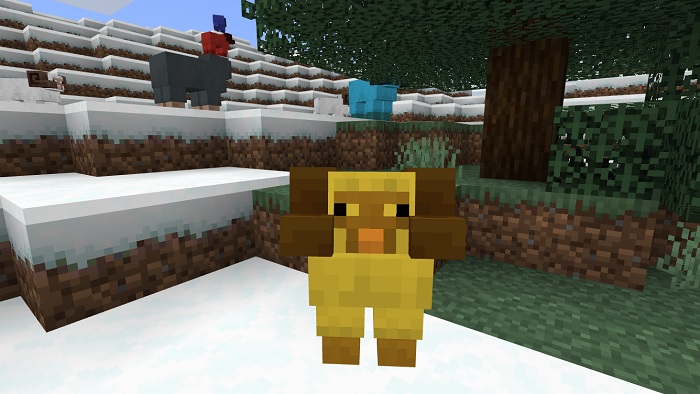 Use scissors to get a block of wool from a horned sheep!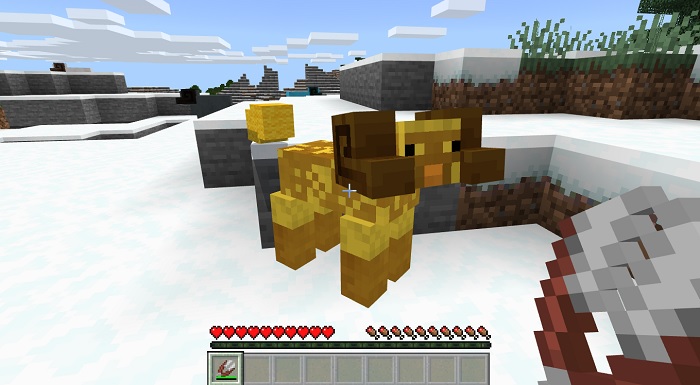 Last update:
January 4, 2020.
What's new?
Added a Cheerful Llama.

Horned sheep can now be dyed.

Added baby options for all animals.

Animals can now be bred.

You can now ride on a dirty pig.

The spawn of dirty pigs in the world has been removed.

Added loot drop and experience with animals.
Installing the Minecraft Earth Mobs Plus mod (.mcaddon):
Download the mod file marked .mcaddon from the link below.

Just open the file (via ES Explorer on Android) and the game will install everything you need by itself.

Launch Minecraft and go to edit the world.

Select Texture sets.

Find the texture pack and activate it.

Select Parameter sets.

Find the add-on and activate it.

The mod is installed, have a nice game!