Welcome to the mod
Mystica Crops
, which adds to
Minecraft PE
a lot of new items, blocks and a new mob. Thanks to this supplement, you will be able to automate the processes of your agriculture.
Ore plants
Different objects fall from these plants, depending on what type of plant it is — coal, iron, gold, diamond, netherite, lapis lazuli, emerald or red stone plant. These plants can be planted only in the garden, like ordinary crops.
If you break these plants, nothing will fall, so be careful.
You can also use bone meal to accelerate plant growth.
At the last stage of plant growth, a piece of ore will appear. To collect, use the right mouse button or interact with the plant.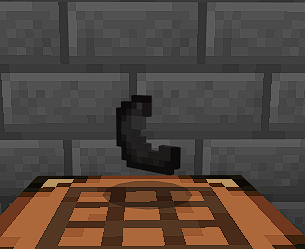 You can put several pieces of ore (2x2) in the workbench to get a whole ingot.
Golem reaper
To create this Golem, you will need a Golem Pearl.
After creating a mob, interact with the Golem and select the mode of operation.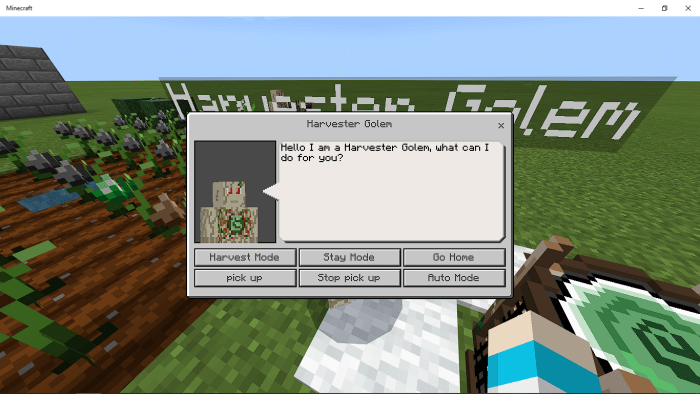 Golem Modes:
Harvest mode: it will assemble the nearest fully grown ore plant.

Standby mode: will do nothing.

Return home: He will go to the nearest harvesting station.

Collect: Will collect all the nearby items.

Stop Collecting: The Golem will stop collecting items, but be careful with this mode, because after turning it on, the Golem's inventory will be cleared.

Automatic mode: harvester for harvesting and home mode after a certain time collects ore plants, and then goes to the harvester.
There is no way to access the Golem's inventory, but you can drop items from the mob.
Harvesting station
This is another important block for automation, which Golems go to when returning home. As you can see, there are white carpets on the sides of the station, funnels are placed under these carpets.
Reaper golems will stand on these carpets and funnels, dropping items.
Special mechanics
This mod uses different ways to get items without using a workbench.
Getting Bells (Bell Flowers)
Throw a water lily into the water, and then right-click (interact) or use a Mystical Book. Be sure to be near the water lily when using the book.
Getting Mystical Logs
Place the Bell next to any logs, then wait until they turn into mystical logs.
Recipes
Last update:
v1.4 (February 27, 2021)
What's new?
Fixed some item names;

Fixed a bug where the Golem didn't collect stumps;

The golem no longer collects seeds.